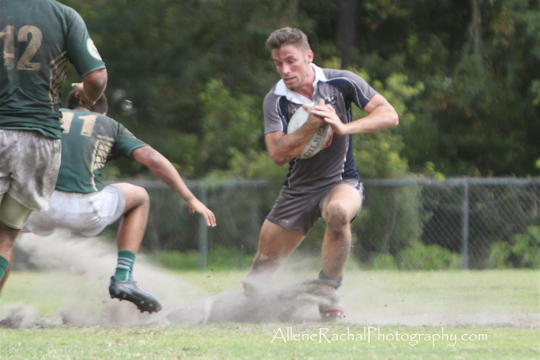 North Florida alumnus and former Deadbird standout Alex Mross won a scholarship to go play rugby and train in Mt. Maunganui, Bay of Plenty, New Zealand for an entire month. Mross will be training at a high performance training facility where he will learn rugby skills, work out, and become fully immersed in the New Zealand rugby culture. Mross will then be assigned to a local club to play a few matches with them, an opportunity not many Americans get.
Mross went one-on-one with Spinnaker Sports and gave some insight about his budding rugby career.
Q: When did you start playing rugby?
Alex Mross: I started playing rugby in the spring of my freshman year at UNF, so January of 2010.
Q: What did you expect were reasonable goals when you first started playing?
Mross: When it came to personal goals, I didn't really have many set. While I felt like I could contribute to the success of the team, I was much more focused on us being successful as a unit. If that meant that I was able to achieve something personally, even better. The goal was always to make the team better. Thinking back, I definitely couldn't have predicted playing at the level I am now.
Q: Take us through the final four experience from your perspective.
Mross: Being the president of the club at that point, it was an overwhelmingly gratifying experience. To go from a club with a losing record that nobody cared about to playing on such a grand stage was incredible. The lost all but one game the season prior, and then went undefeated the following semester. It was a very innocent time for the club. We were so proud to have beaten all the teams in Florida. While we all desired to make it far in the playoffs, it was all foreign to us and was something that seemed somewhat farfetched. Each game was a nail-biter and when we finally made it to the final four, all of us were beyond ecstatic. I remember feeling like we were in the Super Bowl. We had finally gained the recognition that I knew we deserved from day one.
Q: Did you ever get any expectations that you were going to play major rugby after college? If so then when did it dawn on you as a possibility?
Mross: I knew I would play after college, just not at what level. Jacksonville has a very well respected reputation when it comes to rugby, so playing for the men's team would have been a great option. When my plans changed and I ended up moving to Milwaukee, one of the first things I did was research what my options were when it came to playing. While there are multiple clubs here in the city, I wanted to play at the highest level possible. The Milwaukee Barbarians gave me that opportunity, with having both a Division 3 side as well as a Division 1 side.
Q: Who helped you the most in getting to where you are today?
Mross: I can't say there was one particular person that trumped all others when it came to helping me play. I can say that my parents have been my biggest supporters and have always gone above and beyond what a typical parent would do. They traveled to every single game I played, both at home and far away. They became somewhat of the team parents, they essentially adopted all of my teammates and showed them the same compassion and support they gave to me. As for players, I can say that some of the older original guys I played with motivated me to get better. Guys like Steven Hill, Taylor Alley, Cade Pollard, Tristan Morhous, Taylor Youngling, and my coaches Rich Alleger, Ed Clark, Chris Luyster and Max Camel were always there for me.
Q: Where do you see yourself in 5 years as far as rugby goes?
Mross: Five years from now, I just hope to still be healthy enough to play. The sport takes a toll on your body, though as long as I stay fit I'd to be on the pitch for as long as I can.
Q: Any advice for the current and future North Florida rugby players?
Mross: For current and future Deadbirds, just stay true to your roots. We've never been the biggest, the strongest, the fastest, or even the most well recognized. Though we have always, and always will be, one of the most respected and feared teams because of our unwavering work ethic and refusal to give up in the face of adversity. A few team slogans we live by are "true blue through and through" and "whether broken bruised or bloody, we won't back down from anybody."
—
For more information or news tips, or if you see an error in this story or have any compliments or concerns, contact [email protected].