Spin This: Valentine's Day Edition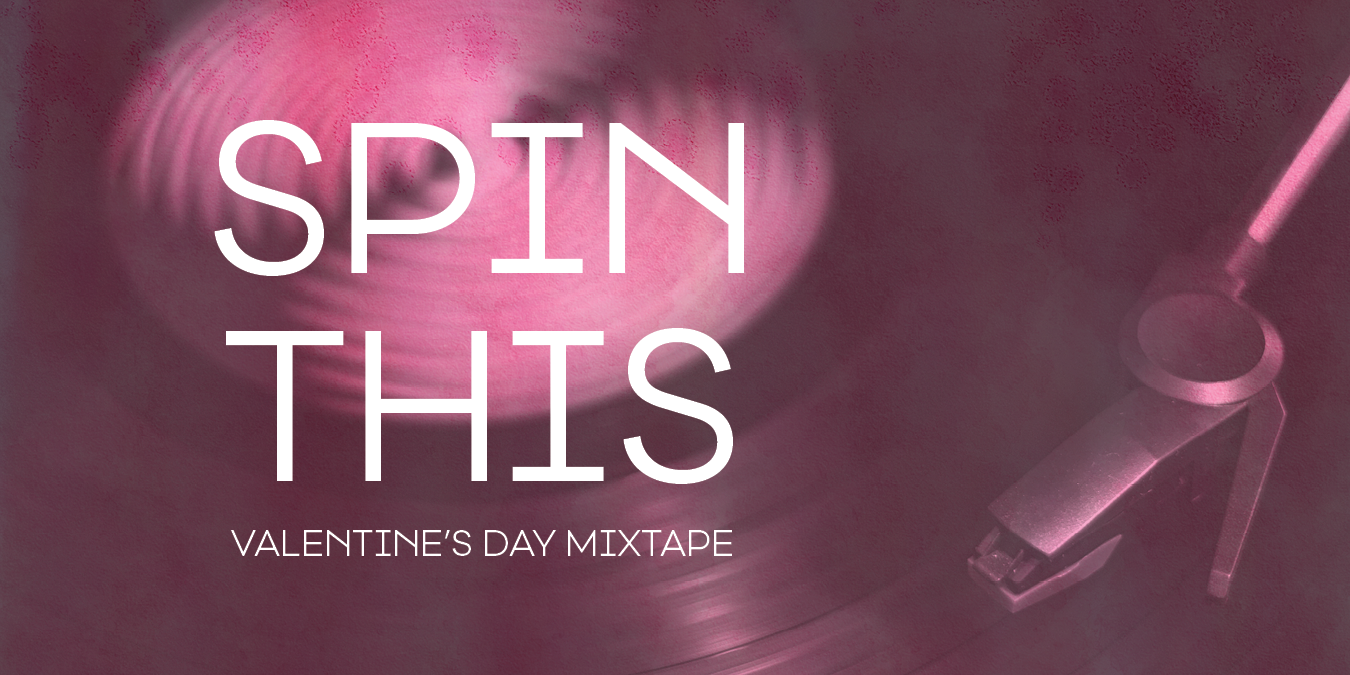 Spin This is Spinnaker's weekly new music playlist, designed to discuss who we think are the top bands in the genre lately. Each writer has their own taste, and we hope you can relate to one of us in some way and read again every week to see what we're listening to.
Luke Barber:
These are just a few songs that make me feel like a bonafide love-freak when I hear them. Whatever that means. The first song, "La La Love You" is a goofy and lovable Pixies track that still maintains the sarcastic edge of its respective album Doolittle. Cheap Trick's "I Want You To Want Me" actually altered something in my DNA the first time I heard it. There are some specific and tender pre-teen emotions attached to that song. The next song is a very sweet and very Scottish song by Camera Obscura, which is a band that had to be included in this list – my lovely Valentine totally adores them. The song that follows "Desire Lines" is a solemn and sexual song called "Break Into Your Heart" by Iggy Pop and Josh Homme, released back in January. If you know who those two guys are, you know how big of a deal it is that they're making music together. The next song, "You" by R.E.M., is a song that contrasts the previous song's bitterness with inviting warmth. This track is followed by another R.E.M. song – an instrumental – that opens with the best sounding piano riff ever played. Trust me on that one. Oh, and I'll let the titles of the remaining songs speak for themselves.
Rachel Cazares:
"I'm in love, I'm in love and I don't care who knows it!" As I quote everyone's favorite Christmas movie, my fingertips are tingling for Sunday the 14th. Hate me all you want. Because either way, I'm bringing out some strong names in music this week. Catch oldies stars Jo Stafford, Patsy Cline, and The Ink Spots make an appearance in the 00s, showing up every modern-day female vocalist with classic love songs that radiate "yes." While I call out our generation's ladies, I must give Amy Winehouse credit for making an incredibly strong showing in the vocal game. Covering a 1930s jazz standard "(There Is) No Greater Love", Amy lets us know she musically just did not belong in our generation—a claim made strong after watching the Amy documentary from last year. Her incredible cabaret queen pipes are like nothing you'll find in anyone today. Since she's passed away, can I call her a legend now? I double-dipped in the City & Colour discography, because nothing is more skin-tickling than hearing "As Much As I Ever Could" punch you in the feels again and again from the first measure, right next to the love of your life. This band never fails to make me want to cry for my love in an incredible way. Also, I want "Northern Wind" to be my wedding song. Iron & Wine, on the other hand, have managed to cover a Postal Service song and perform the greatest love song of our generation: "Such Great Heights." I mean, the first line is really all you need to hear: "I'm thinking it's a sign / That the freckles in our eyes are mirror / Images and when we kiss they're perfectly aligned." What in the hell does that mean? That is how introverts and artists alike say "I am completely and utterly devoted to you forever." Pushing it back to the 90s, Alanis wrote the perfect "Ode to Husband." Ladies and gentlemen: if you are wondering if you've found "the one", check all of their characteristics against these lyrics. If they match one or all, marry them. When I was 13, "Paperweight" actually inspired me to literally write down everything I could remember my middle school crush said that day on a piece of notebook paper. Enough said. As for the last song on my list–I have no words for it, nor the emotional stability to discuss it. Only play this if you want to cry next to your BF/GF for hours and become an emotional wreck together. Some of us are into that.
Nick Blank:
Don't judge me for this playlist. Valentine's Day was invented to sell chocolate, flowers and cute stuffed bears.
Alice Maule:
Whether you're a fan of Valentine's Day or not, you probably have a favorite love song or break-up jam. I have selected a few of mine for this week's playlist, a mix of old and new outlaws that know love and heartbreak all too well. Hopefully one of these songs reflects your mood.
The first track on this playlist is one of Johnny Cash's most iconic tunes, and arguably one of the most iconic in country music, "Ring of Fire." It's a classic staple in any outlaw's playlist for love. It's followed up by "Good Hearted Woman" by Waylon Jennings and Willie Nelson, which if you ask me are a match made in honky-tonk heaven.
Hank William's "Lovesick Blues" is a classic tune for any lonely cowboy. From his lonesome yodeling to the weeping of his guitar, you can't help to shed a tear. When it comes to duets, there is none better than that of Johnny and June. "Long–Legged Guitar Pickin' Man" is one of my personal favorites, it's sure to get you cutting a rug on the dance floor. But I would have to say that Shovels & Rope are a reincarnation of June & Johnny's musical chemistry, and their duet will be sure to melt your heart.
"Love Interruption" is a bitter take on love, like only Jack White can explain to us. Sturgill Simpson and Nikki Lane sing about how fed up they are with their love life, while Chris Stapleton and Ryan Bingham compare their love life to alcohol and drugs. Can I get an amen?
I save one of my favorites for last. "Down Home Girl" by Old Crow Medicine Show (originally a Rolling Stones song) has always been one of my favorite songs, maybe because I think of myself as a down home girl. It's a simple song that's sure to put a smile on your face.
Andre Roman:
Ah, Valentine's Day, a day where couples are obligated to buy each other flowers and gifts to ensure happiness is mutual. R&B music is a perfect alternative to those materialistic items that supposedly show love. Throwback R&B songs seem to be a thing of the past, yet for this specific holiday they are essential. Tracks like "My Boo" and "Shortie Like Mine" for showing how much you treasure your significant other, while songs like "Get It On Tonite" put the focus on "getting lucky." The two Chris Brown songs, "With You" and "Yo (Excuse Me Miss)," are perfect for tracks for when you have that special someone and want to stay with them, or you have an eye on that special someone. So, single people out there, Chris Brown says go up and talk to them. The melodic piano instrumental sample of Luther Vandross' "If Only One Night" and simplistic, yet attention-grabbing bass in "Let Me Hold You," combined with persistent lyrics per Bow Wow, easily conveys the message to the individual you show interest in that you have a lot to offer them and why they should be with you. To me it is still remains one of greatest hip-hop and R&B songs of love that went a little underrated. The songs "Slow Down" and "Dance With Me" were equally necessary, because they are tracks that warrant couples to get down to the dance floor and showcase their affection with style and flair. The track "Differences" features a slow, smooth beat that is geared to telling that special someone they changed your life and made it complete. Lastly, I had to include Shaggy's greatest track, "It Wasn't Me," cause why not include it in a playlist full of astounding throwback songs. So grab that special someone, and let's bring joy to each other because V-Day is here.
—
For more information or news tips or if you see an error in this story or have any compliments or concerns, contact [email protected].