Spinnaker Record Club's Best of 2015: Albums
Our coverage of the year in music continues with the moment you've all been waiting for: the top 20 albums of 2015.
To read our original reviews, click on an artist's name. To hear a sample from an album, click the link below each entry. 
---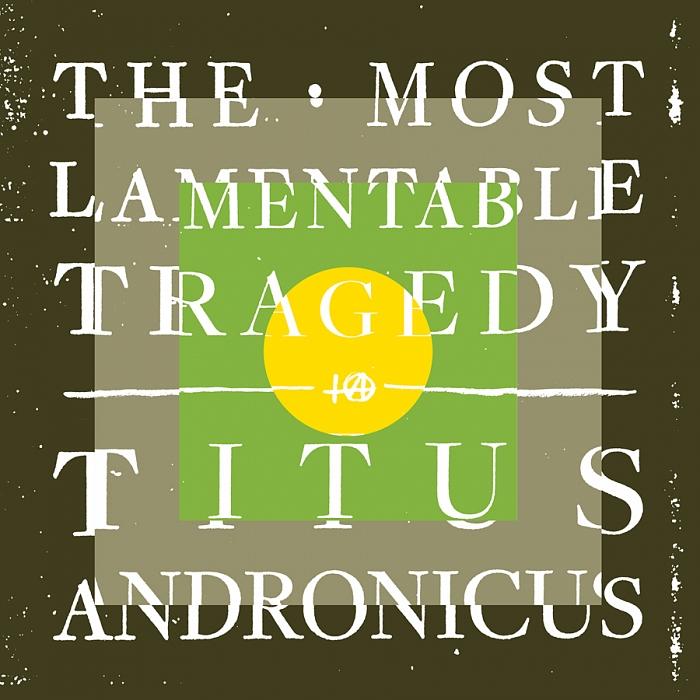 Honorable Mention: Titus Andronicus
The Most Lamentable Tragedy
(Merge)
The Most Lamentable Tragedy is many things: immigrant fiction, self-help manual, literary smorgasbord, punk opera, 50s pop pilfering, Buzzcocks covers, Daniel Johnston homage, the sound, classical drama, the wretched diary of a manic-depressive, only able to be unraveled by reading annotations on Genius, a real "Let's put on a show!" kind of show, verbose, poetic, ambitious, defiant, strange, unlikely and really, really long. But mostly, it's the story of a guy who's sick of his own shit. – Doug Markowitz
Titus Andronicus – "The Magic Morning"
20
Alabama Shakes
Sound & Color
(ATO)
Even though much of this list is made up of weird electronica and alternative hip-hop, it should be noted that most critics are rockists at heart. Nothing soothes us more than hearing music that sounds like what we grew up listening to, which is why nearly every publication gushed over Currents, Tame Impala's half-baked nostalgia trip.  Alabama Shakes, however, is the real deal. Their LP sounds like they shredded a Rolling Stone record guide, picked out the best bits, and assembled a vast, brilliant collage of the best pieces of rock and soul. It wears its influences proudly, which is more than I can say for myself. – Doug Markowitz
Alabama Shakes – Sound and Color
19
Hyperview
(Anti-)
After switching to a new label, ANTI-, Title Fight revamped their alternative punk sound and took a stab at shoegaze on Hyperview. Although they didn't hit it quite in the jugular, Hyperview is a new breed of record amongst their fans and has been a raging success. This clangy, jangly, pedal-heavy masterpiece is the mark of a new era. I'm gonna call it synth-punk. And what a lovely dream this 30-minute, fuzz-rock thing is. – Rachel Cazares
18
PRODUCT
(Numbers)
Dissecting the dance-pop sounds of the late 90s, early 00s and filtering them through the wonky and trap genres of the recent past few years, this singles compilation showcases the many faces of the "bubblegum bass" genre. Sounds range from the sparse UK bass of "Elle" and "MSMSMSM" to the almost avant-garde, post-ironic pop tunes of "Bipp," "Lemonade," "Hard," and "Vyzee" to the abrasive, overly-bassy noise track "L.O.V.E.," but the real highlight is the album's closer, "Just Like We Never Said Goodbye," a pop ballad that best illustrates the sweet, sugary sense of nostalgia integral to the bubblegum bass scene. – Brandon Pinter
SOPHIE – JUST LIKE WE NEVER SAID GOODBYE
17
Mourn
Mourn
(Captured Tracks)
This year's toughest, leanest, meanest rock record came to us straight from a group of adolescent women in Barcelona. Mourn play with the ferocity of early PJ Harvey and write with the irreverence of Bikini Kill. Their record starts with a song called "Your Brain is Made of Candy," and if you got the bonus version it ends with a track called "Boys are Cunts." In between you'll hear a barrage of flat-out awesome punk that will leave your head spinning and your adrenal gland wanting more. – Doug Markowitz
Mourn – Your Brain is Made of Candy
16
EVENIFUDONTBELIEVE
(Warp)
Following his second full length release, Green Language, which included impressive guest vocalists such as Danny Brown, acclaimed producer Rustie goes back to his basics and produces euphoric tracks resembling his first LP. EVENIFUDONTBELIEVE includes 15 invigorating songs, all either solo or are featuring himself for guitar or vocals. With most of the tracks being absolute bangers, Rustie creates a hazy aesthetic that's perfect not for listeners of trance and trap or anyone who wants to have a good time. It's an absolute must to listen to if you're still bumping Glass Swords. – Ari Sinudom
15
The Expanding Flower Planet
(Anticon)
Combining dozens of musical elements from around the world into a hypnotic, fleshed-out realm, the ex-Dirty Projectors member's debut solo album puts other indie folk artists to shame. "A Beautiful Woman" sounds like Animal Collective merged with Jefferson Airplane. "Komodo" weaves a musical tapestry to rival the one in Bayeux. And all over the album do eastern and western elements coalesce into a flawless fusion of traditional music. This is one planet I definitely don't want to leave. – Doug Markowitz
Deradoorian – A Beautiful Woman
14
新しい日の誕生 (The Birth of a New Day)
(Dream Catalogue)
Five years ago, the genre of vaporwave was invented when Daniel Lopatin (his entry in this list is right under this one, btw) decided to slow down, loop, chop and screw the greatest hits of the 80s. The fact that it's still kicking is flabbergasting, but no more so than the fact that the genre has moved from ironic parody of late-capitalism to this stirring album, a truly soulful evocation of the romanticism this generation has felt for the Far East ever since we all watched Lost in Translation and/or Chungking Express. It is, indeed, the birth of a new day. – Doug Markowitz
13
Garden of Delete
(Warp)
The latest LP from electronic composer Daniel Lopatin, Garden of Delete, is full of a variety of strange sounds, from the vaporwave interlude "ECCOJAMC1" which sees Lopatin returning briefly to his Chuck Person alter-ego, to the melancholic violence and distorted computer vocals of "Ezra," "Sticky Drama," and "Animals." The almost soothing plunderphonic sounds of previous albums are disregarded here in favor of weaving a frightening and incredibly cryptic concept album about an extraterrestrial child, the Ezra of the track of the same name, trying to survive alone in the alien Earth. We may never understand Ezra's story fully, but Garden of Delete gives us a deeper understanding of the character's emotions through Lopatin's bizarre soundscapes. – Brandon Pinter
Oneohtrix Point Never – Mutant Standard
12
Mutant
(Mute)
Alejandro Ghersi and Jesse Kanda used their last album, Xen, to conjure artificial bodies, grotesquely seductive figures that revel in their forms. On Mutant, they turn the lens on their own. Literally: all the videos for the album focus on their bodies, flexing and moving in disturbing, fascinating ways. They assert that we should not feel trapped in our own skin. Rather, we should take pleasure in the way we move, the imperfections we cannot remove. And as for the music itself, it is a culmination of everything the producer has done. – Doug Markowitz
11
Father John Misty
I Love You, Honeybear
(Sub Pop)
I'm sure we'd all like to be Josh Tillman in some way. The wiry, bearded Big Sur savant who flew the Fleet Foxes coop is simultaneously an icon of contemporary bougie decadence but also firmly dedicated to taking the piss out of it. Aziz Ansari found such a kindred spirit in him that he stuck him in Master of None. Certainly, this comes out on I Love You, Honeybear, but the real reason we should want to be Josh Tillman, the main concept of the album, is much simpler: you will never love anyone as much as he loves his wife. – Doug Markowitz
Father John Misty – The Night Josh Tillman Came to Our Apartment