People relate to destruction reflected by Tsunami Art Exhibit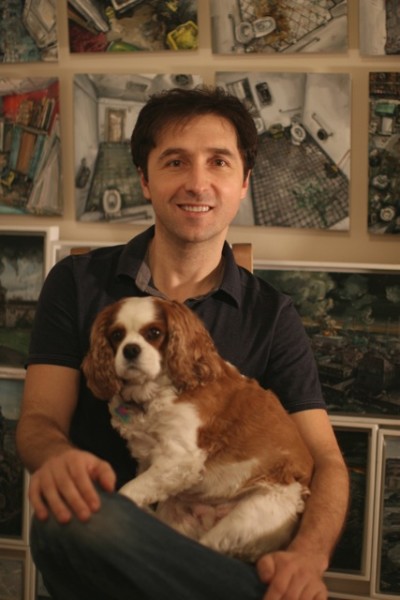 Amer Kobaslija's work, TSUNAMI: Paintings of the Aftermath in Kesennuma, Japan gripped everyone's attention at the spring exhibit's opening reception held in the Lufrano Intercultural Gallery on April 14th. A full house listened and engaged as the artwork powerfully portrayed the aftermath of the magnitude 9 earthquake that unleashed the Tsunami in Kesennuma in March 2011. 
At the reception, Kobaslija discussed the paintings' significance to him since his wife is of Japanese heritage.  Kobaslija was born in Bosnia and later fled from his war-torn homeland  to a refugee camp in Nuremberg, Germany. In 1997, he was granted asylum in Jacksonville. Since his residence in the United States, Kobaslija earned his Masters of Fine Arts from Montclair State University and has had many of of his paintings featured in museums and galleries.  
As for his exhibit in the Lufrano Gallery, his paintings were influenced by the impact of the devastating tsunami to demonstrate his fellowship with the people of Japan and has great admiration for Japanese artists.
After hearing about the tsunami event, Kobaslija booked a ticket to the next flight  to Japan. He and his father-in-law managed to get access to devastated areas and accidentally arrived at Kesennuma, where he decided to stay. He wanted to create a chronicle of the events from the devastation to eventually the cleanup and rebuilding process of the homes and buildings.
Kobaslija described art as a language, a form of communication.  "At the end of the day, it's about the loss of human life. Whether you paint, draw, or write, you respond. The question is if that response will speak to others, and if it does, then you are doing your job as an artist."
The paintings spoke deeply to some guests because it mirrored devastation in their own life or culture.
Cayce Mona, a post-baccalaureate student, remarked that the paintings are comparable to the political conflicts happening in Syria. Mona compared "Black Smoke No. 3" to the visual devastation happening in Syria.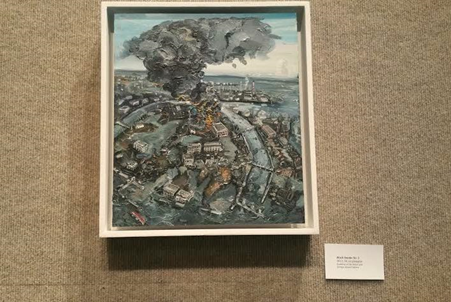 "My father is from Syria," Mona said. "The paintings reminds me of what I see there. The water in the art, well, I turn that water into sand. That image on the screen, it reminds me what is going on in Syria."
Likewise, many guests observed how Kobaslija visually encapsulated the destruction on human lives in his work. These paintings showed people's homes shattered as opposed to the later paintings that captured destruction of nature. The artist explained that civilians are rebuilding the community on higher ground, as if they know that one day, these events will happen again.
Jim Draper, the coordinator for UNF art galleries, stated, "It's interesting to watch what happens when you open up to what an artist sees when there's a disaster that can happen to us at any moment."
Although the paintings in Kobaslija's exhibit illustrated the aftermath of an event that devastated over fifteen thousand lives, the reception was full of lively discussion.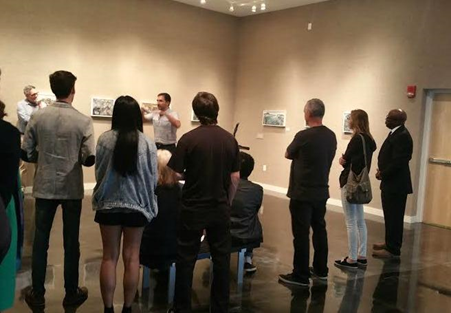 Paula Runyon, a senior fine arts major, is familiar with Kobaslija's work. "I like to see what other artists are doing and I think it's always good to support events in the community and school."
Oupa Seane, the Director for the Intercultural Center for PEACE mentioned his appreciation for Kobaslija. "We are so happy to have this artist who addresses different social issues including discrimination and prejudice."
Kobaslija's exhibit will be at the Lufrano Intercultural Gallery until July 1st. His exhibition, A Sense of Place, will be at MOCA April 16 –August 14.
—
For more information or news tips, or if you see an error in this story or have any compliments or concerns, contact[email protected].