Students can see clearly now: Optical store coming to campus
UNF students are about to see a shift in business in Alumni Square. You could call it a spectacle.
National college eyeglasses chain Campus Optical will replace CPR Cell Phone Repair, which recently went out of business, and occupy the space between the Chick-fil-A and the UPS store this summer.
The other alternatives included a tanning salon or a tattoo parlor.
"Delaney wasn't a big fan of those two," Tully Burnett, Director of Business Services, said with a laugh.
Campus Optical has locations in Florida universities like UCF and FIU. The company offers eye exams, sell frames and makes lenses on-sight.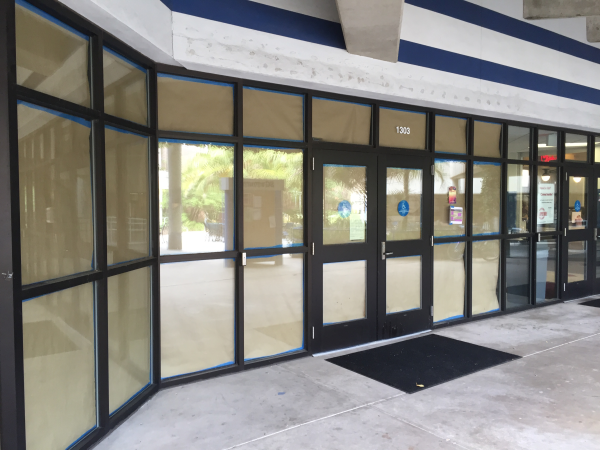 Burnett said he made the decision after visiting Campus Optical locations in UCF and FIU.
"Those locations were hugely successful and widely used by students," Burnett said. "Their philosophy is to make the process of getting glasses inexpensive to students."
Junior biology major Lucas Welch wasn't thrilled with the new arrival.
"It's not a military base. We don't need to have it here," Welch said. "I guess it's convenient for students on campus, but I don't live on campus."
Sophomore Chanel Fountain was more optimistic.
"It's wild and a little different. I've never heard of a college having that on campus," Fountain said. "I'm always looking for new frames."
CPR Cell Phone Repair opened on campus in fall 2012 by Ruben and Carla Aldridge, but the owners decided to leave because of the low student use, Burnett said.
"There just wasn't a huge need for it on
-campus." Burnett said. "It was hard to explain."
Burnett said the university was in talks with Hair Cuttery Salon, but the business backed out. He added that there were difficulties in finding a tenant because of the location.
"One of the problems is that this is a closed campus. We're not Downtown [Jacksonville]," Burnett said. "All of the customers [for a business] would have to be students."
Another problem, Burnett said, was finding a business that didn't conflict with Chartwells or Follett. UNF currently has contracts with both of these companies that greatly limits, and sometimes prohibits, a competing company from operating on campus.
"It's hard to find a niche business to put there that's approved by our primary third-party contractors," Burnett said.
Burnett said he expects the Campus Optical to move in before the Summer B semester begins near the end of June.