Album Review: Chance The Rapper's evolution continues on a trippy, religious note
"Music is all we got," slithers an autotuned Kanye West in the first song on Chance the Rapper's most recent mixtape, Coloring Book. Ye' introduced a climate where alternative rappers could branch out. Experimentation is where Chance, like Kanye, exceeds expectations as an innovator in a rap scene with so few.
Chance The Rapper is proving nominative determinism wrong. "Rapper" is a limiting term for him, just like it was for Andre 3000. Chance is a rapper, producer, singer, and self-proclaimed LSD enthusiast. The Chicago-based rapper harbors a genuine insight into the Windy City's drug culture and goofy '90's kid vibes in general.
He does his own thing and thrives as an independent artist unafraid of leaping headfirst into an ambitious gospel-jazz fusion project. The production of Coloring Book is where Chance has improved the most, backed by auto tune, choirs, stringed accompaniment and vibrant trumpets. He brings something different to rap, if you can label Coloring Book rap.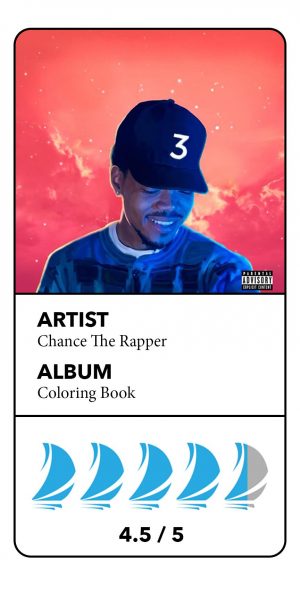 Coloring Book displays Chance as a rapper at peace through religious imagery in songs like "Angels" and "Blessings:" "Hit Jericho with a buzzer beater to end a quarter/ Watch brick and mortar fall like dripping water."
The religious theme is bold and inventive — though it's refreshing to see someone other than Kendrick Lamar veer into Kendrick territory — and it won't do him any favors commercially.
Ten Day (2012) was a "Where it all began" kind of mixtape with an interesting backstory and unrefined energy. When Acid Rap dropped a year later, listeners could hardly tell the same rapper produced it, because he was more verbose, humorous and profound. Chance dove into every emotion from sentimental mothers in "Cocoa Butter Kisses" to Chicago's endemic violence in "Lost" to loveless relationships in "Still Here."
Acid Rap was a loose collage of the first thoughts on his mind while Coloring Book is far more layered and exploratory. This mixtape is the further manifestation of Chance's passion that exploded in Acid Rap like a Jackson Pollock painting. The major change in Coloring Book is the expanded depth of Chance's ambitious gospel-infused project. He offers a kaleidoscope of thoughts, feelings and tenderness throughout the mixtape. This is the growth an artist like Chance has to take to avoid the fate of the self-indulgent fifth album.
During the three year break between Acid Rap and Coloring Book, Chance served as a guest on more than 20 shows. He also fronted jazz-rap fusion group Donnie Trumpet's stellar debut Surf with the Social Experiment, which produced eight of Coloring Book's 14 tracks.
Chance's scraggly inflection is an acquired taste, but he — like Kendrick — brings a wide array of voices to the table. It's not as complex as Kendrick's alter egos, but it's by no means a gimmick. Remember Chance is also a 23-year-old, always willing to reference Harry Potter (twice) or Krillin from Dragon Ball Z.
He's a hip-hop aficionado with a club-friendly demeanor, and he isn't afraid to associate with the pop-rappers like Jeremih or T-Pain. Props to Chance for proving he can make a fantastic album with a Justin Bieber feature. There are so many odd features that would scare off most, and I fell out my of my seat when Lil Wayne and 2 Chainz delivered intelligible verses in "No Problems."
As the figure spearheading the second generation of mixtape rappers, Chance has yet to be snagged by a major label, and it's something he wears with pride. He's proving that rappers can make it without a label, and the depth of Coloring Book makes me wonder if his talent warrants one.
—
For more information or news tips, or if you see an error in this story or have any compliments or concerns, contact [email protected].