Student Artist Profile: Mary Ratcliff
Not many of us have the ability to discover and master a new passion in life as fluently as Mary Ratcliff. Completing her final year as a Fine Arts major, Ratcliff discovered an innate ability to create large-scale metal sculptures. Her work has been installed all over the UNF campus—from the multi-colored rendition of the mind's inner workings to the outlandish bike rack exploding with abstract visuals.  The displays only fuel the fires of her creativity with one of her pieces being featured in the Seaside Sculpture Park in Jacksonville Beach. Spinnaker sat down with Ratcliff to talk about her aesthetic, role models and addiction to create.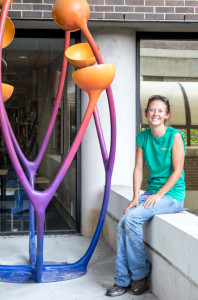 Travis Pridgen: When did you first find an interest in art and what mediums did you first use?
Mary Ratcliff: I actually started as an Art Education major and took one sculpture class and kind of found my niché. I started out gradually and then landed the library project last year. That's what kind of threw me into the fire and it's what formed my addiction for creating large-scale pieces.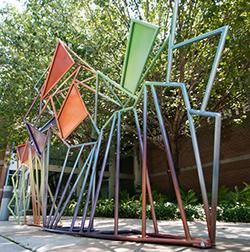 TP: So, you started out as an Art Education major and just jumped into creating large-scale sculptures?
MR: It was a big jump for me. I did a 3D project with recycled newspaper and cardboard for MOCA and actually won the competition. I would say that was my first step into sculpture and then I got into metal work and haven't looked back yet.
TP: Seeing that you got thrown into creating sculptures, who or where did you get your inspiration from when creating these large-scale pieces?
MR: As I said earlier, that first sculpture class was my entryway into the whole "art-realm." Honestly, two big inspirations, crazily enough, are my professors, Jenny Hager and Lance Vickery. They're both awesome and have been huge mentors for me.
I guess as far as aesthetic inspiration, I find a lot of things in nature. I grew up in a really rural setting, kind of backwoods, so that always sits at home with me. I really like abstracted art too, you know, bright and colorful.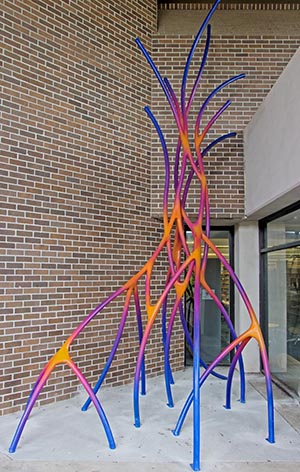 TP: Speaking of abstract art, the pieces you have displayed on campus really stand out. What inspired the design of the sculptures installed outside of the library?
MR: That piece was actually inspired by the brain and neurons and just the internetworking of people, especially going through school and careers and just the value and importance of maintaining those interconnections.
TP: You were one of five students who got selected to have a sculpture displayed at the Seaside Sculpture Park in Jax Beach. What was the selection process like and how did you get your work to stand out?
MR: I think I already had a little leg-up because I was able to do the library project previously. As far as going in front of a board and doing a proposal, I think there were about a dozen students applying. Really, just being organized and a lot of it coming from passion. It was something I really wanted to do so I just set my mind to it.
TP: As far as creating the beach sculpture, was there constraints on things like size, budgets or deadlines?
MR: There was a lot of free-reign. We have great facilities here on campus. We recently moved about a year ago so some of the projects we are doing now we never could have done in the old space. We are very blessed here now.
TP: So how did you go about turning your idea of the beach sculpture into a reality?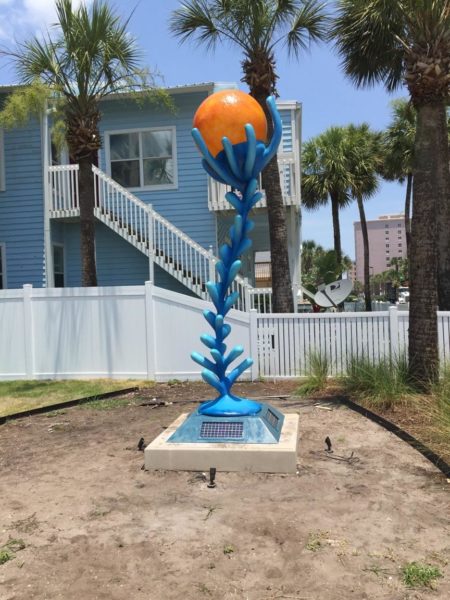 MR: I really started getting this feel for site-specific work and just drawing inspiration from the surroundings. Since it's at the beach I started going in that direction. The piece is actually called "Symbiosis," which is the relationship between the sea anemone and clown fish. So, it's kind of an abstracted version of that.
TP: Do you have any new projects that you are currently working on?
MR: Yeah, I am finishing up the beach project since some of the projects will be installed on monday, June 20th. That's been a six-month project so it's nice to see that piece finishing up. I'm also working on a bench for campus.
TP: What do you envision for yourself in the future?
MR: I would really love to go to graduate school. I just feel that there is still so much out there to learn and continue with art for sure.
TP: What advice can you give to anyone interested in sculpting?
MR: One, it's hard work and it's totally worth it.  Having a career in art is something you just have to commit to 100 percent. Just take advantage of the opportunity.
—
For more information or news tips, or if you see an error in this story or have any compliments or concerns, contact [email protected].