Student Wellness Complex booms in use since its opening
This three-story, 80,000 square foot building has seen more sweat, testosterone and spandex than a 1980's themed frat party. Its occupiers resemble ancient Greek statues, chiseled enough to make couch potatoes grab an extra large sweater in self-consciousness.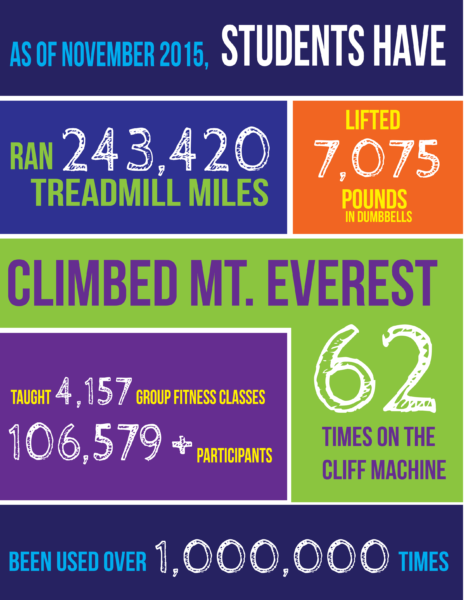 Since its resurrection three and a half years ago, the Student Wellness Complex has been a hit. The number of students who use the gym per day has tripled since 2012, going from 600 to 1800. Even when student enrollment dropped in 2014, usage kept shooting up, and this Monday, the gym celebrated its 1 millionth visitor, a mark that took 10 years to reach in the old facility.
In a time where Americans are growing outwards faster than upwards, UNF students have an opportunity to use a world-class facility to put the brakes on the freshman 15.
In the late 90's, Jim Baur was a young fitness coordinator at UNF's Dottie Dorian fitness center. Having worked there since his sophomore year in college in 1993, he began to realize a problem: the gym was too small. Flash-forward to 2010, and that young, optimistic fitness coordinator had worked his way up the ranks to a director position and was leading the charge to secure funding for a new, state-of-the-art facility. In December of 2010, a wrecking crew began demolition of the Dottie Dorian and, two years later, the electronic doors of the new complex slid open for the first time. Jim's vision had come to life.
The Student Wellness Complex is the Parthenon of UNF's campus. It's eight times larger than the Dottie Dorian was and nearly 20,000 feet more floor space. Its beautiful design has garnered multiple awards and wide-eyed stares from prospective students and athletes. UNF students flocked to the chic new center in droves and haven't slowed down since.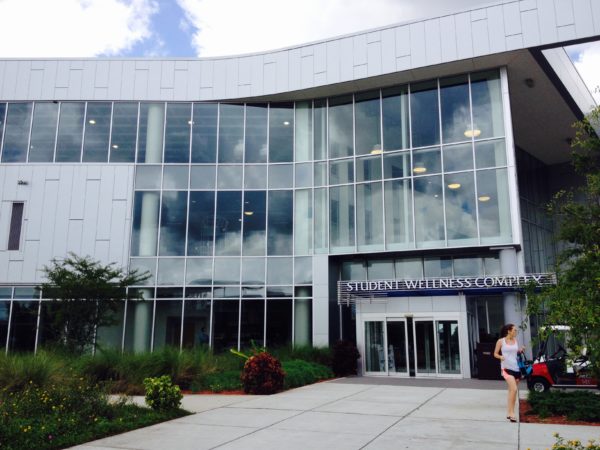 Marc Gelfand is a 6 foot 200 pound gym rat who, for the last seven years, has worked out seven days a week. A senior at UNF, Gelfand has been around to pump iron at both gyms.
"The new gym is 10 times better," Gelfand said. "The old gym did its job, but it just wasn't something you would look forward to."
A couple of things stood out to Gelfand—like the Olympic platforms and a plethora of machines—but one thing struck him more than the others. It's really, really clean. Wet towels are positioned across the gym and lifters are strongly encouraged to wipe down the machines after using them. The staff is constantly spraying and wiping the windows, machines and mirrors, making the damp smell of sweat and metal associated with most gyms non-existent.
The Student Wellness Complex is one of the nicest gyms in Jacksonville. The staff diligently maintains it, adds fresh programs to the fitness menu and provides an aesthetically pleasing space to get fit.  Stop in, lift a little, get healthy and turn those pea-shooters into shotguns.
*Correction: In an article printed in Spinnaker Limited's Freshman Survival Guide edition, it was said that a forgetful free pass is given out monthly to students who forget their Osprey 1Card. The policy gives a student two passes per semester, not monthly. We regret the error.
—
For more information or news tips, or if you see an error in this story or have any compliments or concerns, contact [email protected].