Picturing Italy: New exhibit on display
A new exhibit in the Student Union showcases the best images students captured during their Study Abroad trip to Italy.  
During Summer A, 22 students enrolled in the Italy trip offered through the Art and Design Department. Of those students, 12 were enrolled in photography courses and had the opportunity to capture the art of Italian cities. The best two or three pictures by each student are now hanging in the second floor east hallway of the Student Union as part of the "Picturing Italy" exhibit.
Each year, the art history department schedules this trip to Italy so students can capture Italian culture. Kally Malcom, Assistant Professor of photography, lived this experience with students. Malcom said the purpose of the exhibit was to showcase the most impressive work students captured over the six-week trip.
"Lots of art, lots of Italy, lots of culture, and I think the exhibit demonstrates that," Malcom said.
The pictures on display were taken in many Italian cities, including Rome, Marittima, Florence, Sorrento, Naples and Venice. Malcom said she wanted students to capture new and uncommon moments that are only found in Italy. This objective was crucial so students could compare and contrast their experiences on the trip to life in the United States.
This was the first time Malcom was part of the department's annual study abroad trip, and she said students enjoyed what they learned. After the initial culture shock, Malcom said everyone adjusted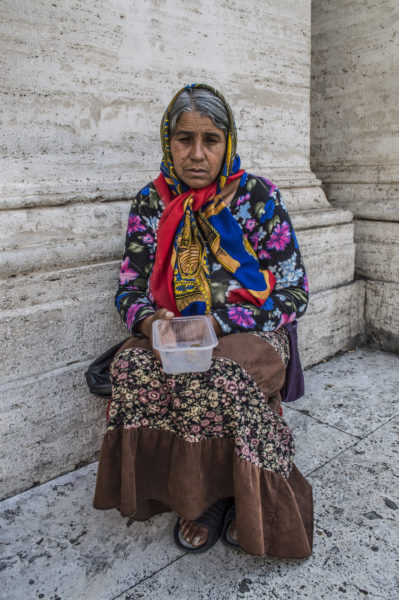 to the environment. Malcom mentioned that viewers are going to be able to see these experiences reflected on the picture display.
Christina Ochoa, a junior photography major, is one of the 12 students with work on display in the Student Union. Her three pictures on display focus on beggars that were everywhere in the streets of Italy. Ochoa said that she tried to approach these beggars without any judgment.
"I just noticed that a lot of them had character in their faces," Ochoa said. "They would make a good portrait basically."
Ochoa said she had access to a picture with each beggar after paying them one or two euros individually. She experienced a language barrier while trying to communicate with each beggar, and said that the technique of pointing to the camera and showing money in her hand was the best way to have access to a photograph. Though, according to Ochoa, being able to speak some Italian would have helped her find out the life stories behind each beggar.
The "Picturing Italy" exhibit will be on display until Nov. 28.
—
For more information or news tips, or if you see an error in this story or have any compliments or concerns, contact [email protected].