Author visits UNF to discuss new book exploring effects of pastor's sex abuse
In many ways Rev. Bob Gray was an architect. Gray turned Jacksonville's Trinity Baptist Church into financial power. He sculpted a strict fundamentalist message, and gave the church an identity, flipping a scant congregation to several hundred. He delivered (with the help of donors) a sleek building that hovers over Hammond Street, with a large white cross affixed to the center of the glass.
But, behind it all, a darker legacy looms from what Gray destroyed through four decades of systemic sexual abuse of children.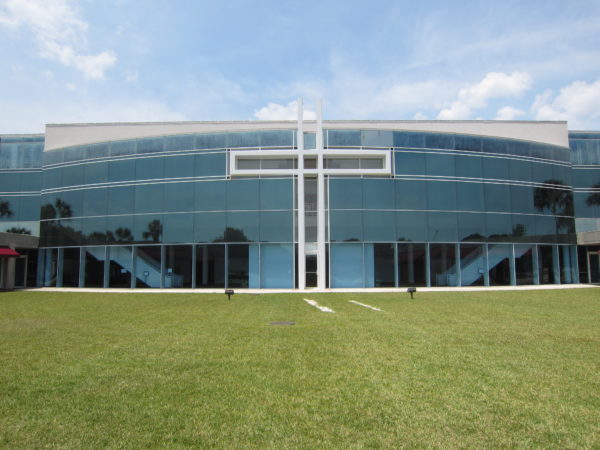 Gray sexually abused numerous children in roughly 40 years at the helm of Trinity Baptist, Jacksonville's first megachurch. Though the first incident occurred in 1949, the truth didn't unfurl until victims realized there were other victims.
In 1992, when author Tim Gilmore said the allegations were closest to coming to light, Gray was sent to be a church ambassador to Germany. Gray was arrested in 2006 and died before he could ever face charges. Gilmore interviewed numerous victims and members of the church who attended the church during the height of Gray's power at Trinity Baptist.
Gray is the subject of Tim Gilmore's thirteenth book "The Devil in a Baptist Church: Bob Gray's Unholy Trinity." Gilmore will read from his book Thursday at 7 p.m at the UNF Art Gallery. The reading is the first of the Word by Word Reading Series, where authors visit UNF to discuss their work.
Gilmore, an English professor at Florida State Junior College, was born with a fundamentalist background and he attended Trinity, the school affiliated with the church, though he never met Gray (who died in 2007) in person. Gilmore interviewed numerous victims and members of the church who attended the church during the height of Gray's power at Trinity Baptist. He said he was surprised by how many people were impacted by Gray's abuses.
"A lot of people really wanted to talked because they felt the story never got the way it should have," Gilmore said.
Gilmore was drawn to those who the story impacted most in Jacksonville. Many of Gilmore's books deal with Jacksonville in some respect.
In the pulpit, Jacksonville pastor Bob Gray spoke with ferocity, vehemently denouncing rock and roll, homosexuality and women becoming preachers. Trinity Baptist Church measured girls' skirts if they were short and boys' hair if it was too long. He played off of people's fears.
"A lot of people thought his religion was a sham, a way to prey on children," Gilmore said. "He knew how to perform: he was a bible-thumping, stage-stomping, shouting hellfire and brimstone preacher."
Fundamentalist churches like Trinity Baptist, Gilmore said, pit the church against the world. This means not only groups and the culture-at-large, but institutions like the police and other churches. The church encouraged victims not to trust the police and the problems were dealt with in-house.
"The whole fundamentalist mindset was one in which the world was against God and God's people and the world is everything outside the church," Gilmore said. That meant that anything that happened inside the church, you couldn't trust the world's institutions, only God could deal with it.
Gilmore said it was cult-like how the congregation of Trinity Baptist put Gray in a place where he was only answerable to God.
"Anytime you have somebody with this authority and power who is only answerable to God, what it actually means is that the person isn't answerable to human institutions," Gilmore said. "It really puts them above the law. It enables secrecy, protection and this kind of predation."
—
For more information or news tips, or if you see an error in this story or have any compliments or concerns, contact [email protected].