Elections Commissioner suggests SG members not wear red; Senator accused of stealing campaign materials
UPDATE — 9/28/16 @ 3:57 p.m.
The complaint filed against Sabrina Sorrentino was found to have no merit, according to an email from SG Director of Public Relations Alejandro Nieto.
Nieto also stated that the complaint made several false assumptions, which have since been corrected in the original article. Kyle Spear is not a member of the Red Party, as the complaint stated. Additionally, Nieto stated that Shomari Gloster never publicly endorsed the Red Party, as the original document stated.
Further, Nieto told Spinnaker that Spear, against whom the second complaint was filed, is no longer a senator.
---
A complaint was filed against Elections Commissioner Sabrina Sorrentino, for an email she sent out suggesting that members of SG avoid wearing red, to avoid perceived party affiliation.
According to the complainant, Sorrentino circulated an email on Sept. 21 in "a direct discrimination against a party that is running while ignoring another party completely."
The email told professional staff and student assistants not to wear red during the election cycle. It also told student assistants not to get involved in "election-related conversations," and asks that if they hear any conversations they report it to the Election Commissioner or the Attorney General.
"Wearing party-affiliated colors could imply the wrong impression and be inflammatory during an election cycle," Sorrentino said to student staff.
The complainant suggests that this email violated state laws and freedom of expression.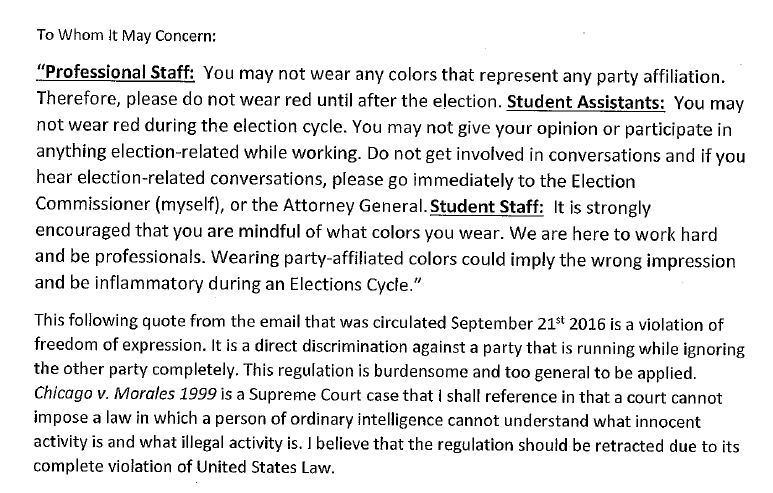 No hearing has been set for this complaint. 
Another complaint filed against former senator Kyle Spear also involves former SG President Shomari Gloster, United Party Chair, and SG President, Caleb Grantham, and Red Party Chair Sami Mims.  
According to the complaint documents, Spear was supposed to give the campaign materials to Grantham, but gave them to Gloster instead. Gloster, who is no longer a student, was a member of the United Party.
Grantham contacted Spear and Gloster numerous times and was unable to get the campaign materials back, according to the complaint. His first request was Aug. 23. Eventually, he contacted Mims about the complaint, who told Gloster to respond to Grantham.
"Gloser's response to Grantham's request implied that the signs could not be returned due to 'damage during tropical storm Hermine,'" the complaint states. "However, after not being able to explain why the signs were so badly damaged and how none of them could be recovered, Gloster claimed that the signs were his, not the party's and he didn't have to return them."
Because Spear was responsible for the materials, he is accused of violating the Election Code of Ethics, which states that the theft or destruction of party campaign materials is unethical.
Senator Spear faced an elections complaint earlier this semester for openly carrying United Party signs on campus, but no punitive action was taken. A hearing about the new complaint is scheduled for Monday, Oct. 3 at 8 a.m.
The formal evidence packet on the issue is not yet available, but Spinnaker will continue to update the story as more information becomes available.
__
For more information or news tips, or if you see an error in this story or have any compliments or concerns, contact [email protected].