Men's Soccer Trio earn postseason accolades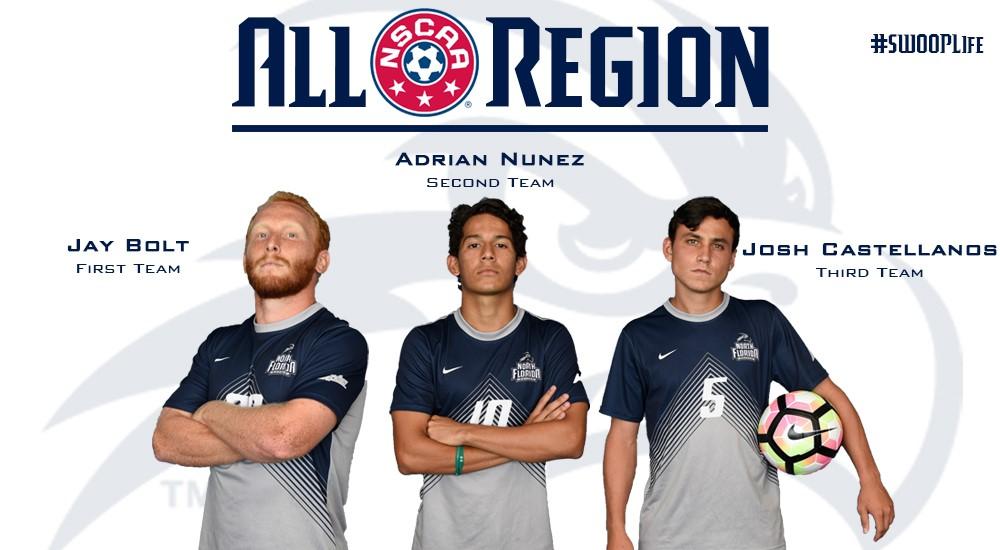 Three Osprey players were named to the Southeast NSCAA All-Region team. This marks the third consecutive season that North Florida had multiple players be selected.  

Senior Defender Jay Bolt was named to the First Team All-Region squad. The Jacksonville native and Bolles graduate has additionally been named the ASUN Defensive Player of the Year and the ASUN First Team All-Conference squad. Bolt received the All-Region honor, a record three times as an Osprey.

Freshman phenom Adrian Nunez was named Second Team All-Region to go with his ASUN  Freshman of the Year award and First Team All-Conference recognition. The young star lead the team in goals with seven in 2016 and additionally had four assists.
Junior midfielder Joshua Castellanos received Third Team All-Region honors. It is the first time he has been awarded as such, but he additionally was named ASUN First Team All-Conference in 2016 and was Second Team All-Conference last season.

The awards serve as a proper send-off for Jay Bolt and a sign of a bright future for Adrian Nunez.