Shaky Knees Music Festival preview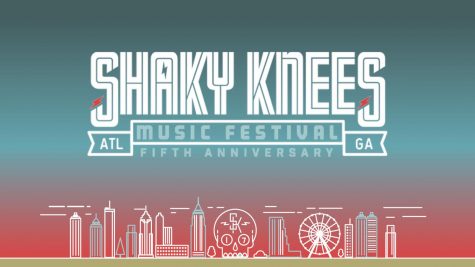 Shaky Knees is having its fifth annual music festival in Atlanta from May 12-14. The Spinnaker Media team will be there documenting all the action.
Friday, May 12th:
Headliners include LCD Soundsystem, Cage the Elephant, and Pixies.
LCD Soundsystem just released two new songs 'Call the Police' and 'American Dream' this past weekend on Saturday Night Live. These are the first new songs the band has released since 2010, so it will be interesting to see if they release any more new material this weekend at Shaky Knees.
Cage the Elephant is still riding off their 2015 record 'Tell Me I'm Pretty,' and this January released a music video for their track 'Cold Cold Cold' They are currently on their "Live and Unpeeled" Tour. Maybe they will release some teaser tracks hinting at new material, or they will be playing their iconic tracks with an acoustic twist.
Pixies are currently on their 'Head Carrier' tour. Their setlist is also a mixed bag of classic tracks  and new material, but their iconic tracks 'Here Comes Your Man' and 'Where is My Mind?'  are a given at any Pixies show.
Other notable acts for Friday include: FIDLAR, Car Seat Headrest, The Growlers, Pinegrove, and Rainbow Kitten Surprise.
Saturday, May 13th:
Headliners include: The XX, Nick Murphy, and X Ambassadors.
The XX is currently on their 'I See You' tour, an album that was released this past January. Their setlist includes tracks from all three of their studio albums, with their most well known tracks 'Intro' and 'Angels' being saved for their encore.
Nick Murphy (also known as Chet Faker) just released a new EP entitled 'Missing Link' and plans to go on a North American tour. Nick Murphy's setlist will most likely be off of his most recent EP and his last record, 'Built on Glass' which was released in 2014.
X Ambassadors' last record, 'VHS' was released in 2015. Their new song 'Hoping' was released this past March, and their show at Shaky Knees will kickoff their 2017 Tour.
Other notable acts for Saturday include: Moon Taxi, Sylvan Esso, Dr. Dog, and Catfish and the Bottlemen.
Sunday, May 14th:
Headliners include: Phoenix, The Shins, Ryan Adams.
Phoenix recently released a new track entitled 'J-Boy' and confessed that they will be releasing a new record called 'Ti Amo' in June. This will be indie pop outfit's first full-length album since 2013's 'Bankrupt!'  Shaky Knees will kick off their 2017 tour.
The Shins' latest record, 'Heartworms' is the first album the band has released in five years. They will kick off their tour at Shaky Knees fest, and plan to go through North America and Europe.
Ryan Adams' released his critically acclaimed album 'Prisoner' this past February, catapulting a tour through the US, Australia, and Europe, and will kick off May 12th in Columbia, Maryland. Adams' latest record '1989'  was released in 2015.
Other notable acts for Sunday include: Third Eye Blind, Bleachers, Saint Motel, and Cloud Nothings.
__
For more information or news tips, or if you see an error in this story or have any compliments or concerns, contact [email protected].