Hits and misses, bold changes for Paramore in "After Laughter"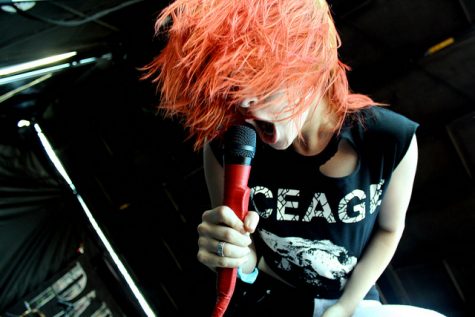 Paramore is a band that grabbed 2007 by storm. If you were in middle school in the mid-2000s then you were exposed to Hayley William's fantastic vocals and bright orange hair. Even with personnel changes, Paramore has been a group that has embraced the same pop-punk formula for the better part of decade.
On their fifth studio album After Laughter, Paramore takes a massive sonic shift. Grabbing from 1980s heavyweights like Blondie and Talking Heads, and contemporary indie-pop darlings like The 1975 and Phoenix. Paramore goes from a pop-rock sound to a sleek, indie-pop composition.
The album opens with the infectious tune "Hard Times". This tune has a funky bass line and glittering guitars that are sugary to the ear. Williams' voice has conviction, exclaiming "And I gotta get to rock bottom!" Her changing inflection adds more texture to the track, and the lyrics of trying to make it through a difficult time in one's life is juxtaposed by the sweet melody. "Hard Times" is a smart track that kicks the album off on an amazing start.
Though the new wave sound is a bold move for the group, the lyrical subject matter touches on the same themes that previous Paramore albums adhere to. Themes of love, loss, and personal stresses are apparent on this record. Hayley Williams' lyrics are relatable, the listener will easily empathize with her on this record.
Despite the agreeable sound of After Laughter, songs on this record are a little too sugary for their own good. Tracks like "Fake Happy" and "Idle Worship" are borderline cliche, sonically they pull from the basic indie-pop sound of cheers and a steady, constant drum beat garnished by synths. This sound frankly becomes boring on these tracks and make it become less memorable.
Highlight tracks on this record are "Rose-Colored Boy," "Told You So," "Pools," and "Caught in the Middle" these tracks bring a new, dance-infused flare to the record and have by far the catchiest hooks.
All in all, After Laughter is a record that may surprise longtime Paramore fans. But in the end, it is a new direction for the band after years of a similar one. The road ahead looks like a lush and glittery one.

3.5/5 sails
__
For more information or news tips, or if you see an error in this story or have any compliments or concerns, contact [email protected].