Allie X Picks Up the Pieces on 'CollXtion II'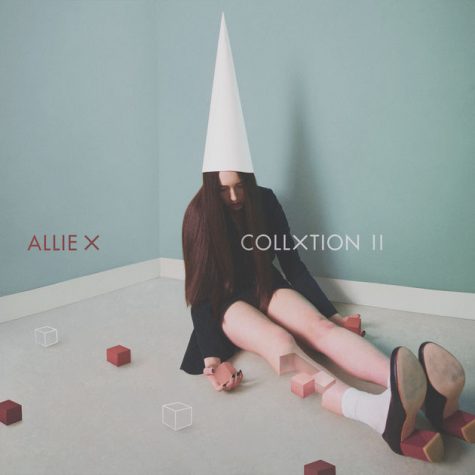 Canadian singer-songwriter Allie X is beginning her push into the mainstream pop universe using her own unique sound as a battering ram.
Her debut EP, CollXtion I, went largely under the radar save for the single "Catch" which charted on the Canadian Hot 100 and caught the eye of pop superstar Katy Perry. Showcasing a theatrical soprano voice and a talent for production, Allie X used her synths to perfection to craft a beautifully layered debut in 2015.
CollXtion II keeps the same dynamic synths and intricate songwriting in play while toning down the theatrics a bit, and what has resulted is a brutally honest record with huge mainstream potential.
Allie X's first full-length album kicks off with "Paper Love," a rugged ode to a no-good but irresistible bad boy. "Come on watch my heart turn to pulp like paper love," she sings over a rumbling guitar and a very radio-friendly whistle melody. The song actually differs slightly from the collective sound of the album, but it works to highlight another dimension in Allie's artistic style while keeping within the lyrical themes of the album.
Following "Paper Love" is "Vintage," which is on the lighter side in terms of sound and speaks about a love that's good enough to feel nostalgic. Other up-and-coming pop artist Troye Sivan lends his pen to this one as the two work together to dazzle the listener with flashy synths and warm imagery that will make anybody reminisce about their first love.  
"Need You" is a simple and serene track that repeats the line "I don't need you" three times during each chorus in an effort to become true. The song makes very heavy use out of vocal manipulations which can get a bit overcrowded at times. Allie has said before that this was the last song to make the final cut for the album, and one can't help but wonder what song was cast out in favor of this one.
Nevertheless, "Need You" builds a sturdy bridge between the bubbly "Vintage" and "Casanova" which deserves to played in dance clubs everywhere. Its deceitful build-up to the chorus masterfully dodges the listener's anticipation in favor of the quietly candid admission, "Casanova f—ed me over, got me dying for your love. Casanova, Casanova, now you're all I'm thinking of."
CollXtion II finds Allie resorting to the same patterns of "Paper Love" and "Casanova" with what may be the best song on the album "Old Habits Die Hard." "Shame on me, slap on my wrist, at your door and I'm not proud of it," she sings over a percussion that's so catchy it demands to be heard by anybody within earshot. In the chorus, Allie tries to piece together why she keeps going back to these boys that are no good for her as crisp, reverberating synths blare in the background. Allie achieves a great balance of sound here as the synths provide a perfect environment for her vocals to live in, and each have their shining moments.
"That's So Us" and "Downtown" act as one-two punch of mid-tempo bangers, though the two explore very different themes lyrically. The former is an anthem to best friendship and finding seemingly the one person on the planet that makes life not so scary and unstable. The latter dives into love (or rather the illusion of it) given by physical intimacy. Again, she expresses her desire to break free of this vicious cycle, but she continues to be held captive as a player in a game that cannot be won.
"True Love Is Violent" winds things down on a softer note with a piano leading Allie through a reflection on her journey through CollXtion II, which has left her "battered and bruised." It is a somber recognition of the pieces of her identity that have been torn apart by love, and how she longs to make them whole again. It is a feeling that is easily understood by those who have been unfairly deceived by love, and a feeling that the album cover art embodies as Allie sits sunken on the floor, literally holding pieces of her broken self in her hands.
CollXtion II's honesty and vulnerability should be commended, as well as Allie X's unique vocals and smooth production. She manages to tell her story through mostly pop bangers whose potential for commercial success is not traded for emotional depth and meaning.
                                                                              4/5 Sails

—
For more information or news tips, or if you see an error in this story or have any compliments or concerns, contact [email protected].