Former Budget and Allocations Chairman alleges corruption in Student Government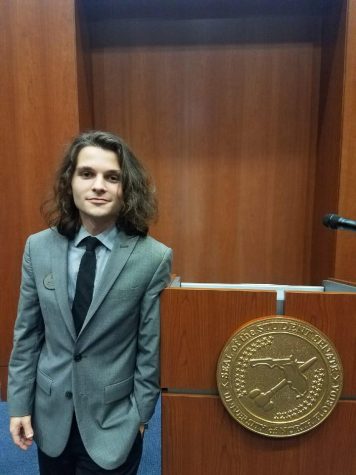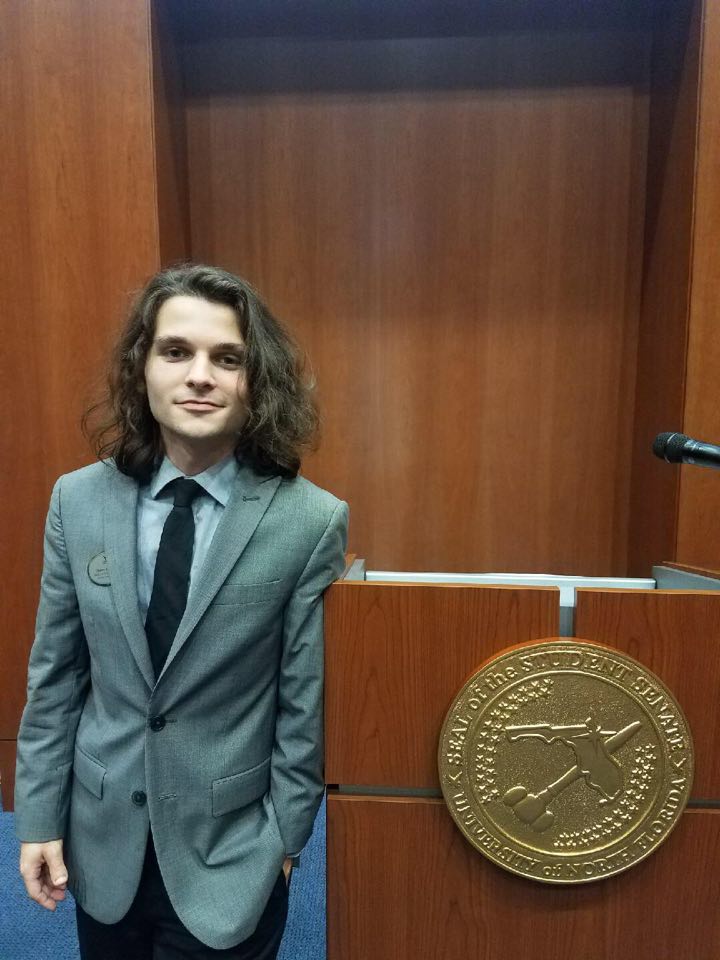 Senator Shawn Adamson, the former Student Government Budget & Allocations Chair, accused SG of corruption and bullying.
In the last Senate meeting, Adamson was officially fired from his position as the Budget and Allocations Chairman by Senate President Thomas Beaucham. Adamson said he was fired for disagreeing with the people in charge of him.
"It's a toxic environment," Adamson said.
Adamson read from a three-page letter addressed to SG Senators defending himself in hope the senators would overturn Beaucham's decision. In his speech, Adamson included why he should have stayed as the chair, accused SG of bullying and corruption, and highlighted some mistakes he said many SG leaders made behind closed doors.
"People here will threaten you and pressure you and degrade your self-confidence to get what they want," Adamson said in the closing remarks of his speech.
One of the accusations of corruption Adamson made was the firing of previous acting-treasurer, Theodore Mason. Adamson said Mason was confirmed as SG's Treasurer by the Government Oversight Committee and before he headed to Senate, he was relieved of the position.
Adamson said Mason was fired because he refused to sign a Budget Transfer Request. According to Adamson, $15,000 was requested to be transferred from wages to miscellaneous supplies. Mason and Adamson did not sign the request because there was not enough information regarding the nature of the request.
According to Adamson, Mason was then told by Vice President Cole Poppell he would be fired if he didn't sign it. Mason was fired anyway for unprofessionalism, Adamson said.
Mason confirmed he was indeed fired.
"The official reason, that you'll probably hear from the VP is due to my professionalism or lack of experience," Mason said. "I was offered another position in the executive staff but I turned that down for various reasons."
Mason plans on running for senator in the fall semester.
"I felt rage about this," Adamson said. "I was told that the person who had made the request and had asked President Mims to fire Treasurer Mason, Vice-President Cole Poppell, had learned his lesson and that it would only hurt Student Government to bring this up publicly."
The $15,000 budget transfer request was for a popcorn machine, a printer, and office supplies but Adamson said he was not given those details until after the request was made. It was then, according to Adamson, that Beaucham approached Adamson and told him he lacked the authority to withhold his own signature.
"An argument that (Beaucham) is likely to have been given by VP Poppell considering that it had been used on former acting Treasurer Mason as well," Adamson said in his speech. "At that moment I believed that if I failed to sign, I too would be fired, but I accepted that, and refused Senate President Beaucham's request."
Before Adamson was fired, SG highlighted several mistakes he made with several individual travel requests. The committee decided to combine the registration, lodging, and transportation fees for five students requesting funds listed under the lodging fee, so the students could only spend money on lodging. One person requesting funds was no longer a UNF student.
During the June 19 Senate meeting, Student Government President Samantha Mims criticized the former B&A chairman. Adamson interrupted and spoke out of turn several times, and had to be reminded by Attorney General Jaclyn Glosson of proper decorum.
Beaucham fired Adamson, and when Adamson gave his speech he criticized the lack of leadership and hypocrisy Mims portrayed at the Senate meeting.
"President Mims, who criticized the decision of the Budget and Allocations Committee to forward a number of travel requests in the past, was asked at a later time why she signed off on them though she disagreed with them," Adamson said. "Her explanation was that she did not have the travel request packet before her so she did not know – a falsehood witnessed by Senate President Beaucham at a later meeting as he had personally given it to her."
Adamson said Mims failed as a leader because she was criticizing the senators and her subordinates for mistakes she herself had made.
"This is a point which I wish to make – leaders do not lead by antagonizing their subordinates but inspiring confidence in them," Adamson said.
A major point in Adamson's speech was that Beaucham supposedly told Adamson that he would find reasons to fire him, the night he entered the leadership position.
"After that time, he told me on several occasions, to which a room full of people could attest, that he was collecting a portfolio so that if he needed to fire me, then he could," Adamson said. "My point is simply this – while Thomas did make attempts, on occasion, to try and bring confidence to me in my role, on most occasions his approach to getting me to do better was to threaten me."
As the Senate President, Beaucham has the full ability to fire anyone in the legislative branch without consulting others. The Senate can overturn any firing he does make, however Adamson said most people will follow what the Senate President does, because the paperwork has already been turned in and that person wouldn't have been working in the office since the initial dismissal.
Beaucham said the reason he fired Adamson was for unprofessionalism. After several warnings, he thought it was best to remove Adamson from his position.
"At this point, I expect every member of the senate to be committed to growth," Beaucham said. "This means giving your all and I believe that Senator Adamson's behavior exhibited a continuing disregard for this core value. I will not tolerate anything that undermines this institution or its ability to perform well for the student body."
Adamson said he wanted to stress that SG should be a learning organization, and that there will be mistakes.
"I'll admit that if we had professional staff in our positions, I definitely should have been fired," Adamson said. "But the thing is, is that the kind of mistakes I was making, I think other people were making, most people were making, and those were not what I was being fired for."
Adamson said that mistakes in a learning environment should not be used against you, but they are in the current SG environment.
"It's an organization where you are allowed to make mistakes but those mistakes will be used against you by superiors to get you to do what they want you to do, and to behave the way they want you to do," Adamson said. "Even if it's not necessarily what you believe is the right thing for your position to do."
Adamson plans on staying in SG as a senator and serving on the Budget & Allocations Committee until his term is up at the end of the fall semester.
Spinnaker has reached out for comment from Poppell and Beaucham. Spinnaker will update this story when more information becomes available.
—
For more information or news tips, or if you see an error in this story or have any compliments or concerns, contact [email protected].