SG: Budget & Allocation Mistakes Causes Trouble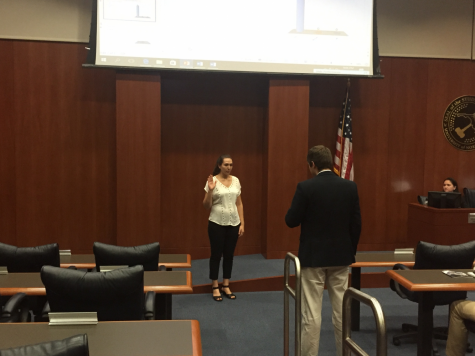 The Budget & Allocation Committee faced trouble in the latest Student Government Senate after they passed legislation allowing for six individuals to attend the Terminus film festival. One individual wasn't even a student and four of the individual travel requests were changed in the B&A committee to allow for 'easier paperwork'. One of the travel requests that wasn't changed was vetoed by President Samantha Mims.
Breakdown
All six original travel requests stated that each individual wanted $381.82. $90.67 was to spent for registration, $279.15 was to be spent for lodging, and $12 was to be spent for transportation. As this was not a club, each individual had to request money. B&A decided to combine the registration, lodging, and transportation fees and have it all listed under the lodging fee for five of the six individuals. Meaning that the five individuals could spend the $381.82 for lodging only.
One of the travel requests was later found invalid as the individual was no longer a UNF student.
Aakash Baskshi's travel request was vetoed by Mims as it was the only request that didn't have any changes made by B&A committee. After much discussion in Senate, changes were made to Baskshi's travel request. He will now receive a total of $391.71. $90.67 for registration, $250.72 for lodging, and $50.32 for transportation.
There was tension between Mims and B&A Chair Shawn Adamson as Mims criticised the changes B&A made to the travel requests. She made it clear that by making things easier on the paperwork perspective it could make things harder for the students.
Election Policy Changes
Title VI, the Election Code, was reviewed in Senate. There were several changes made to the Election Code, but due to the Government Oversight Committee not reaching quorum, the entire code did not get the thorough editing Elections Commissioner Aesha Soliman wanted and Senate sent it back to the GO committee.  
Judicial Branch
The Senate meeting finished by confirming Madeline Mickler as an Associate Justice. This still leaves two vacancies on the SG Supreme Court, as pointed out by Chief Justice William Mewborne.
Other Announcements
Mims announced that student Jaguar tickets will go on sale from July 25 to July 27. More information is planned to be released shortly.
There are 13 available seats in Senate as of the moment. Students can obtain a seat in Senate either through appointment or through the fall election cycle, starting September 12.
The Osprey Voice survey done by SG will take place from June 26 until June 29. The survey will include questions about the UNF library, composting on campus, and parking services. Students can take the survey through SG senate members.