Armada Remains at Hodges Stadium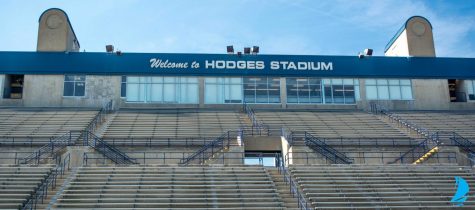 The Jacksonville Armada will return to the Hodges Stadium for the 2018 season.
During the press conference, Robert Palmer, the new Armada owner, expressed his gratitude to John Delaney, University of North Florida president.
"I've had some great conversations with President Delaney. I want to thank him personally for stepping up and helping us with our transition of ownership," said Palmer.
Palmer also thanked the university as a whole, for helping keep the Armada going after its struggle to find a place to play.
"When the [North American Soccer League] had to takeover the team and they couldn't make the economics work at the baseball field, UNF stepped up and provided a quick place for them to play," said Palmer. "They've been great partners in keeping the team alive."
The Armada rented the Hodges Stadium for one year before the recent announcement to remain at the facility.
Palmer sees the relationship between UNF and Armada flourishing in the future.
"UNF has earned my loyalty personally and the loyalty of all Robert Palmer companies," Palmer said. "The relationship we are going to build with the university will span well beyond the Armada playing at Hodges to a deep relationship with all the brands I own as they expand here in Jacksonville."
—
For more information or news tips, or if you see an error in this story or have any compliments or concerns, contact [email protected].