Women's soccer defeat FIU Panthers in best start of program's history
Video by Jesse Martinez and Joslyn Simmons 
With her first collegiate goal, sophomore Lorena Cedeno pushed the Ospreys(4-1) past the FIU Panthers(0-4) to grab the 1-0 victory at Hodges Stadium on Sept.1.
The offense started off a little slow for both teams with neither scoring as in the first 45 minutes.
While the Ospreys did come close to scoring in the in the first half when senior Kendall Pollock sent the ball towards the goal off a corner kick, but the Panthers stuck to their defense.
In the first half of the game, the Ospreys were able to limit the Panthers to two shots while attempting four of their own.
"The first half was a little sluggish and we had to make a few adjustments at halftime and those paid off," said head coach Robin Confer.
Cedeno broke the deadlock at 76:06 when she made it through the Panthers' defenders to score from the lower right side.
"I came off the bench and I did what I had to do," said Cedeno. "I did what I had been working on and training for all week for this moment. Being able to do that, getting in and finishing the last goal at the net, it was all the hard work our team collectively did."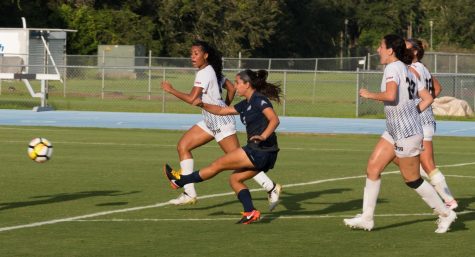 UNF didn't give FIU much window for opportunity, as the Ospreys went 11-4 in shots.
"Our girls came out in the second half and rose to the occasion. It was great for Lorena to get her first collegiate goal in great fashion," said Confer. "I am really proud of the effort these girls are putting in every single game and they keep rising to the challenge."
The Ospreys will  face the Long Island University Brooklyn Blackbirds on Sept. 3 at noon in the Hodges Stadium.
__
For more information or news tips, or if you see an error in this story or have any compliments or concerns, contact [email protected].