Men's Soccer drop ASUN opener to Stetson
Video by Jas Chung-Campbell 
The North Florida Ospreys (1-5-1) opened the ASUN Conference with a 1-0 loss to Stetson University (3-4-0) on Sept.23 at Hodges Stadium.
Tempers were hot with multiple yellow cards called out for both teams throughout the game.
For the entire first half and majority of the second, the score was deadlocked at zero. As the red numbers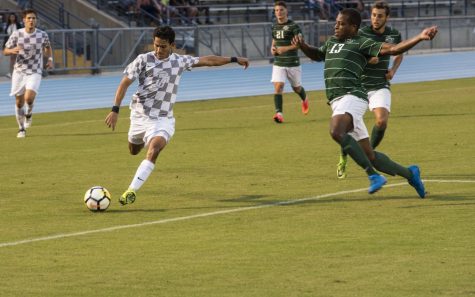 on the clock ticked down, there were several chances to score for the ASUN teams.
Osprey's midfielder Mikey Connell had two corner kicks within 18 seconds of each other early  in the first half with neither being converted into goals.
Stetson's Raphael Northoff, attempted his own  shot at seven minutes and forty-six seconds into the first half but it was saved by Osprey goalie Juanes Fajardo.
North Florida was unable to get through Stetson's strong defense to score a goal for the night.
With five minutes and thirty-three seconds left on the clock in the second half, Stetson's Ian McCauley, assisted by Northoff, performed a header shot and scored the Hatters' single, and winning, goal of the entire game.
Time ran out before the Ospreys could respond, which sealed their defeat.
UNF finished with five shots attempted with two of those shots on goal. Stetson finished with 17 shots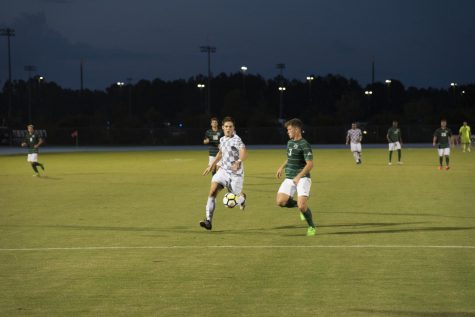 attempted with 11 of those shots on goal.
While the Ospreys had more saves and one less foul than the Hatters, their ASUN foe had more corner kicks and scored the single goal of the game.
The Ospreys travel to Miami to play Florida International University on September 26 at 7 p.m.
__
For more information or news tips, or if you see an error in this story or have any compliments or concerns, contact [email protected].