Guide to finals week events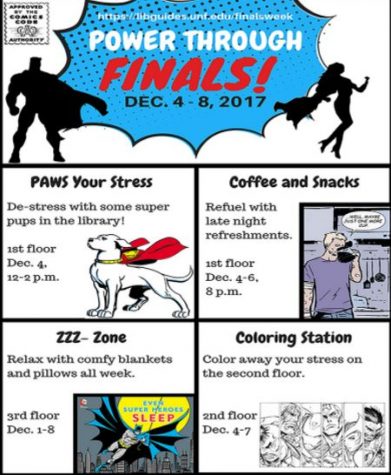 With finals week in full effect, students have multiple activities they can attend to relieve their stress. Here are some of the events going on around campus:
PAWS your stress
On Monday, Dec. 4, puppers from the Canine Companion for Independence will visit the Thomas G. Carpenter Library. Students will be able to pet the pups from noon until 2:00 p.m. This event is organized to help students take a break from all the stress that finals week causes.
Finals Frenzy
Student Government will be tabling outside of the library from 10:00 a.m. to 4:00 p.m. They will provide all the necessary supplies for students to ace their finals including pencils, green books, Nature Valley bars and water bottles. SG will be outside the library until Thursday, Dec. 7.
Healthy Osprey Study Room
UNF Healthy Osprey will be hosting their Healthy Osprey Study Room in the Thomas G. Carpenter Library room 1114 until Wednesday, Dec. 6. In this study room, students will be able to grab a quick snack, and also learn some helpful test-taking tips. Need a break? There will also be bean bags in the room to help students relax during the week.
Crunch Time Coffee Cart
Need a little pick me up? The Department of Housing and Residence Life will be hosting a coffee cart on Monday, Dec. 4 and Tuesday, Dec. 5. The coffee cart will be located outside of building 14B, and will be open from 9:00 to 11:00 a.m. Don't like coffee? That's okay. The cart will also offer students hot chocolate and tea. Along with these delicious drinks, Housing and Residence Life will also be giving students green books and mechanical pencils.
Free Late Night Coffee and Snacks
What is sleep during finals? As students camp out, the Thomas G. Carpenter Library will have snacks available for these late-night students from Monday, Dec. 4 through Wednesday, Dec. 6. Snack time will start at 8:00 p.m. each day, and will end when there are no more snacks available. There will also be free coffee and hot chocolate.
__
For more information or news tips, or if you see an error in this story or have any compliments or concerns, contact [email protected].