The STD testing experience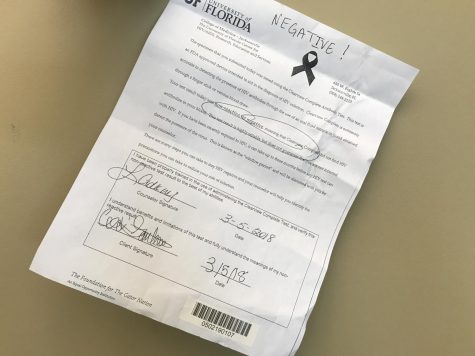 I got tested for HIV and syphilis Monday, a free service provided by the LGBT Resource Center as a function of Sex Week 2018.
I went into the surprisingly empty testing room, and was instantly welcomed by three cheerful, enthusiastic women who were laughing and dancing while setting up the "testing facility." After filling out some paperwork, I was taken behind a curtain and sat at a desk while a nurse named Coco explained the procedure to me.
It was simple–my finger was pricked, and my blood was put on a strip of paper and covered with a plastic sheath. Afterwards, the only task was to wait.
Going into the process, I was worried that people seeing me enter the room would assume I was overly promiscuous or easy, as the kids say. To my surprise, a variety of people entered the room gradually and made light conversation as we completed questionnaires about our sexual history. Others seemed nervous as well, but that energy seemed to go away quickly.
I came out negative for both, and I honestly knew I would. While waiting for the results to come back, Coco made sexual jokes and laughed with me, while finally exclaiming, "You're clean, baby," when the results came back. I thanked her and walked out of the room smiling.
There is an obvious stigma around STD testing in today's society, even within college campuses, which attempt to create a sex-positive environment already. People can be judgmental and assume the worst about someone, but the fact is that nobody is immune to the possibility. Through this experience, I learned that there is no real reason to be afraid, and that anyone can be curious whether or not they have an STD.
I'd rather be safe than sorry, and informed as opposed to ignorant.
—
For more information or news tips, or if you see an error in this story or have any compliments or concerns, contact [email protected].