New SG Legislative Cabinet officers elected in last senate meeting
The last senate meeting of the semester was held on April 6 at the Senate Chambers, where the Legislative Cabinet Nominees were sworn in.
Senate President Nina Lee started the last meeting by giving her last farewell speech and then gave the new senators insight on how to utilize the opportunities that they find. Afterward, nominations for the Legislative Cabinet positions were open. Since the nominees were voted on the week before, no new candidates were voted on.
If there was only one person nominated for a position, they would receive it by acclamation. Since Thomas Pluchon was the only nominee for Senate President, he received the position by acclamation. Sonia Vargas became Senate Pro-Tempore, Julia McComb became the new Budget & Allocations Committee Chair, and Patrick Healy became the Government Oversight Committee Chair.
There was a debate between over who should be the next University and Student Committee Chair between Damaris Wambui and Delaney Kwatkosky. Kwatkosky won the vote.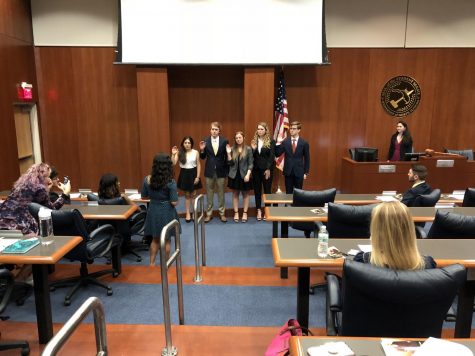 After the new Legislative Cabinet Officers were sworn in, Nina Lee passed the gavel to Pluchon making him the new Senate President. After final announcements and roll call, the meeting was adjourned for the rest of the semester.
—
For more information or news tips, or if you see an error in this story or have any compliments or concerns, contact [email protected].