UNF Camp Osprey celebrates 10 years by focusing on leadership
Various UNF students and community leaders will be recognized for their mentorship on April 24 at the Collegiate Achievement Mentoring Program (CAMP) Osprey Leadership Mentoring Awards.
Hosted by UNF's Department of Leadership, School Counseling and Sport Management, with the Taylor Leadership Institute, the CAMP Osprey award ceremony celebrates the program's 10-year anniversary.
The ceremony will honor three student mentors from the CAMP Osprey program, junior Nicholas Marchese, sophomore Casey Estes and senior Diandra Thompson. Community leaders will also be recognized, including Bruce Taylor, former UNF Board of Trustees chairperson and co-founder of the Taylor Leadership Institute, Lt. General Rick Tryon, Taylor Leadership Institute director.
Drew Dudley, Ted Talk speaker and founder of Day One Leadership, will be featured as the keynote speaker alongside Jonathan Catherman, best-selling author of "The Manual to Middle School."
The CAMP Osprey program has reportedly impacted over 1,500 students and trained over 500 collegiate mentors, expanding its reach to nine schools in three states that utilize face-to-face and virtual mentoring since 2015.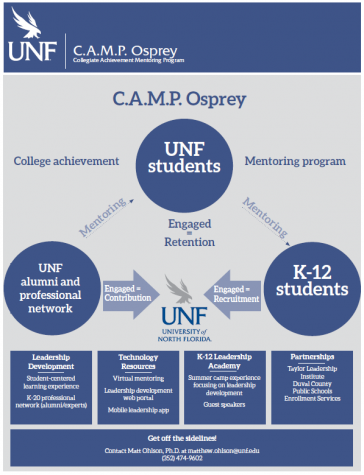 "This event serves to honor the work of the amazing leaders who have helped to create CAMP Osprey," said Matthew Ohlson, program director and assistant professor of Leadership, School Counseling and Sport Management. "We want to model our mission of 'leaders can change the world, one person at a time' by allowing every participant the opportunity to enhance their own leadership skills and be a force for positive advancement in their schools and communities."
The CAMP award ceremony will take place on April 24 from 11 a.m. to 2 p.m.in the Student Union, Bldg. 58W, Room 3703.
Admission is free with a children's book donation to Tenikka's Books for Kids drive to benefit the Jacksonville Public Library's summer learning programs.
Ticket and sponsorship packages are available on the CAMP Osprey website. If you have any questions, you can contact Matthew Ohlson at (904) 620-5271.
—
For more information or news tips, or if you see an error in this story or have any compliments or concerns, contact [email protected].