UNF professor makes waves with new surf rover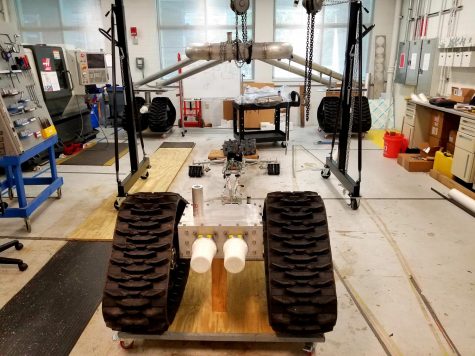 No scientific endeavor is without its risk, and to survey the surf zone of the ocean is to potentially risk one's life. Exposing oneself to this region of water has been historically hazardous in that breaking waves have capsized boats and rip currents have caused scientists to drown while working in harsh environments.
For this reason, William Dally, associate professor of civil engineering at UNF, has decided to take matters into his own hands and remove human beings from the equation altogether.
His solution: A giant remote-controlled surf rover that could survey the surf zone and withstand acting as an oceanic punching bag.
"It was actually an idea I had many decades ago when I was a student being sent out into the surf zone to do surveying," Dally said. "I was getting clobbered by waves and thinking, 'there must be a better way than this.'"
When Dally first got out of grad school, he taught at the Florida Institute of Technology for 11 years, where he attempted to build the first surf rover model. However, the lack of funding rendered his project temporarily ineffective.
Once Dally came to teach at UNF, he wrote funding proposals for almost two and a half years before the National Science Foundation finally provided him with a $515,000 grant to see the rover to completion in a four-year window.
According to Dally, the rover is a tracked, bottom-crawling and remotely operated vehicle that would initially be used for surveying beaches during storms. His ultimate intention is that it will be a general workhorse for scientific investigation in the surf zone, equipped with an array of scientific tools such as sensors, current meters and ripple sonars.
"It'll be powered by a diesel engine that runs a hydraulic system. The diesel engine will 'breathe' through a 20-foot tall snorkel, so it'll be able to work from up on the dry beach out to about 25 feet in the water depending on the wave climate on that particular day," Dally explained. "That captures most of the dynamic part of the beach profile: the part that changes when the storm comes in."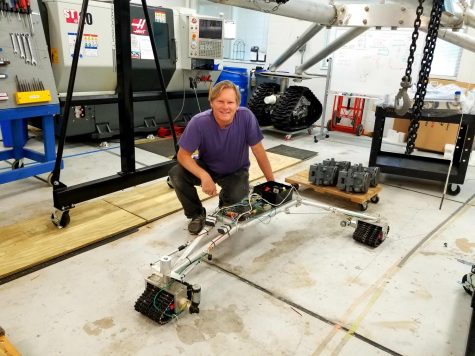 Primarily comprised of aluminum and stainless steel, the rover looms at 16 feet wide and 20 feet long when deployed, though it can fold up to be only shy of seven feet wide. This makes for easier transportation and accessibility, as Dally and his associates can put it on a flatbed trailer and tow it anywhere they decide to test it.
UNF students have also had the chance to get their hands on the surf rover. Dally recalls having over 88 students work on the project as a special topics class, though they all mostly assisted in creating early designs of various rover components.
"They seem to really enjoy it because they're working on a real-world project… something that's going to actually come to be," he said.
But Dally has attracted more than just student attention with his surf rover.
While touring the UNF campus, a commander of the Navy Civil Engineering Core caught wind of Dally's surf rover and decided to get involved.
"He heard about the surf rover and got excited because they have to use divers to do a lot of their exploratory work," Dally explained. "And that's both slow and dangerous, especially if they need to know what the soil conditions are when they build a pier for off-loading ships. In order to drive piling into the sea floor, they need to know if it's mud or sand or both."
With a new program where the Navy sends officers to UNF to complete their master's degrees, there have already been several students who have come from the Navy to assist Dally with the surf rover.
He also hopes that the Navy will be sending an additional two officers in the fall, as he plans to start testing the rover within the next year.
The surf rover is expected to reach completion in August of 2019.
—
For more information or news tips, or if you see an error in this story or have any compliments or concerns, contact [email protected].