UNF alum wins election for Duval County Judge for Group 3
Duval County released the breath it had been holding on the evening of Tuesday, Aug. 28 when officials announced that UNF alumnus Michael Bateh was elected by local voters as the Duval County Judge for Group 3.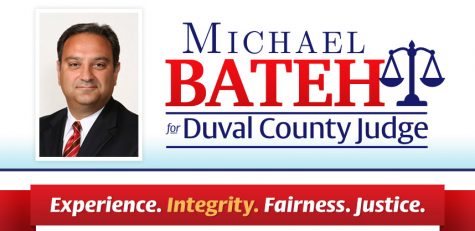 Having previously sat as the Division Chief in Circuit Court, Bateh served most recently as the Division Chief of Homicide and Capital Crimes in the Office of the Public Defender Charlie Cofer. Moreover, he is a member of the Jacksonville Bar Association board of governors.
Bateh maintained a specific appeal with local voters based on his past experience as a small business owner of his own private practice. Throughout the local race, the veteran of law also boasted endorsements from the Fraternal Order of Police, the Jacksonville Association of Fire Fighters and Jacksonville Sheriff Mike Williams.
With a campaign that emphasized "experience, integrity, fairness and justice," Bateh affirmed on his official political website that voters could trust him to "adhere to the constitution and protect [their] freedoms."
Bateh's election competitor, Gerald Wilkerson, held a similar background, as he was also a previous assistant public defender and owner of a private law firm. At the end of the day, however, the "tough, but fair" candidate overtook Wilkerson with 88,570 total votes.
Bateh graduated with his Bachelor of Business from Administration from the University of North Florida.
The general election will be held on Nov. 6, 2018.
—
For more information or news tips, or if you see an error in this story or have any compliments or concerns, contact [email protected].