A voice for the voiceless: Student government holds a town hall meeting on alcohol
Johnakeshia Thompson
September 28, 2018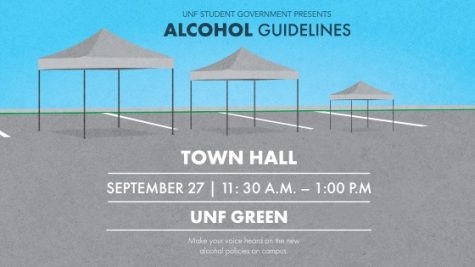 On Sept. 27, the UNF Student Government held a town hall meeting about the school's new alcohol policy on the Green from 11:30 a.m. to 1 p.m.
SG collected surveys and informed students about the new alcohol policies. The town hall meeting was held because many students are in opposition to the new policy.
Student Government weighed in on their opinion about the policy and explained that many students are not excited about the new policy.
According to the SG Vice President Maria Bermudez, at least 89 percent of students oppose the new policy.
"Students are reacting this way because they feel like they weren't being heard," Student Body President Jenna Dupilka said.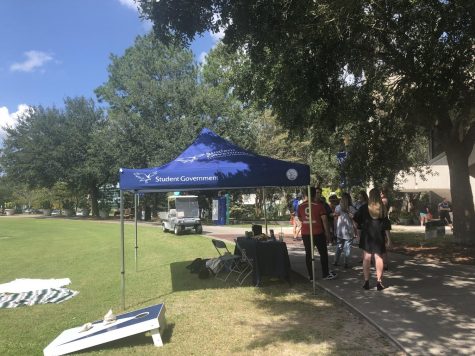 Dupilka also said that the surveys collected from students will be brought to the Board of Trustees at their next scheduled meeting. The board is currently waiting for Dupilka present the information collected at the town hall event, so that they may hear how the students feel as a result of the new policies.
However, it's ultimately up to President David Szymanski on whether or not they will change the new alcohol policies.
Tyler Prom, a junior transfer from UCF, explained his viewpoint on the new policy. He said that coming from UCF, he notices how the policies would always change. He also told Spinnaker that, in that coming here, he could tell that this was once a "what" campus and, now that the new alcohol policy has been implemented, it's causing students to hang out other places.
His biggest concerns, of course, were with tailgating, as he feels like the new policy will stop students from tailgating and coming to games.
"People look forward to tailgating and going to the games," Prom said.
Dupilka also explained concerns about student organizations. Specifically, there are reportedly concerns about not being able to sell alcohol, despite the fact the athletic department is still able to sell alcohol through the same third-party vendor. She said that it's disrespectful to student organizations and students as a whole.
"We are all adults and we should be treated as such," Dupilka said.
Dupilka will present the collected information to the Board of Trustees at their next meeting on Oct. 11.
—
For more information or news tips, or if you see an error in this story or have any compliments or concerns, contact [email protected].