Sitting down with SG President on alcohol policy change and other issues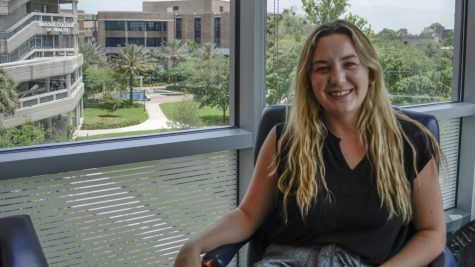 The third floor of the UNF Student Union is typically a busy place where student government officials move from meeting to meeting, but for two weeks in early October, anxiousness pervaded the halls of Senate.
During the two weeks after the special Osprey Voice, which showed strong resentment to the alcohol ban, senators walked quickly from meeting to meeting and spoke in hushed tones. Administration officials barely left their offices and kept their heads buried in work. For the first time in her tenure as Student Body President Jenna DuPilka kept her office door shut.
Since being elected Student Body President, she has witnessed the retirement of a University President, the firing of beloved Vice President of Student and International Affairs, and the ban on alcohol at student events. Throughout all of this, she has remained positive.
But these two weeks were different.
She was responsible for being the voice of the Student Body by telling the Board of Trustees that the new alcohol policy was shortsighted and avoids real issues of binge drinking and unsafe drinking locations.
How does a college student stand up and tell a room full of governor-appointed board members – which includes a CEO, a pediatrician, multiple business owners, corporate executives and a retired two-star General – that students disagreed with the new University President's alcohol ban? Especially considering that these board members recently chose the new President.
This is an issue that DuPilka and her Vice President, Maria Bermudez, have been attempting to change for some time now. In fact, former UNF President John Delaney canceled tailgates in the Spring semester, but DuPilka and Bermudez suggested a compromise: Saturday tailgates.
"Tailgates were so great! It's a big social scene open to everyone. I get smiles thinking about it, but now it's gone. There has to be a happy medium and whether it's this year or 5 years from now, there will be," DuPilka shared in an interview with Spinnaker.
The alcohol ban isn't the only issue that Jenna has worked on during her presidency. DuPilka and Bermudez have accomplished a lot in a matter of 6 months, including upgrading the Thomas G. Carpenter Library wifi, adding seating and shade around campus, providing laptop chargers for students to rent, and offering free feminine hygiene products and drink testing kits on campus, it's safe to say they've been busy.
But this presentation was something that weighed heavily on DuPilka and the stress was getting to her. Luckily, she has a great support system. Her parents and her red-nosed pit bull named Luke are a short drive down to Jupiter and she has built a strong group of friends here at UNF.
She also picked a cabinet full of capable, smart, hard workers who helped her develop a presentation that respectfully laid out the student's concerns.
"The administration is asking students to make adult decisions. Why not let them?" DuPilka summarized.
DuPilka's passion for students is what motivated her to run for President and it's been evident since she won the election
—
For more information or news tips, or if you see an error in this story or have any compliments or concerns, contact [email protected].