Dishes by students for students
This article was originally published in the Fall 2018 "Culture of UNF Issue". 
Phở
One of the many ways to maintain and spread culture is through cooking cultural dishes. Many students living on campus cook dishes from their homeland as a way of bringing their culture to UNF.   
Vietnamese student Anh Nguyen Tran explained that his favorite dish to make is Phở (/fuh/), a Vietnamese cuisine.
"Essentially, every Asian country has a traditional noodle dish," Tran said. "Pho was created by Vietnamese farmers during the French colonial period in the early 20th century. The purpose was to utilize the beef scraps that were readily available from the French and to ration during the ravaging war time."
But don't sweat it if you're afraid your cooking skills aren't up to par.
"Making Pho is not an easy task, but not impossible," Tran explained. "A typical batch usually takes me seven to eight hours."
Ingredients:
Broth
– 4 lbs beef bone (sliced in halves with marrow intact)
– 1 chicken carcass (to lighten the broth)
– 1 onion, peeled and halved
– 1/2 of ginger root
– 1 pouch of Pho spices (sold at Asian stores) [cinnamon, cloves, coriander, cardamom, star anise, and fennel]
– 2 tbsp of fish sauce
– Salt and Pepper (personal preference)
Toppings
– Dry rice noodles (soak in hot water for 45 minutes to blanch and soften)
– 1 lb of top sirloin, very thinly sliced
– 1 bunch of Thai basil
– 1 bunch of cilantro
– 1 bunch of bean sprouts
– 1 lime
– Sriracha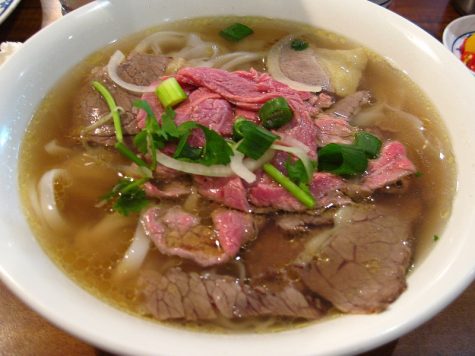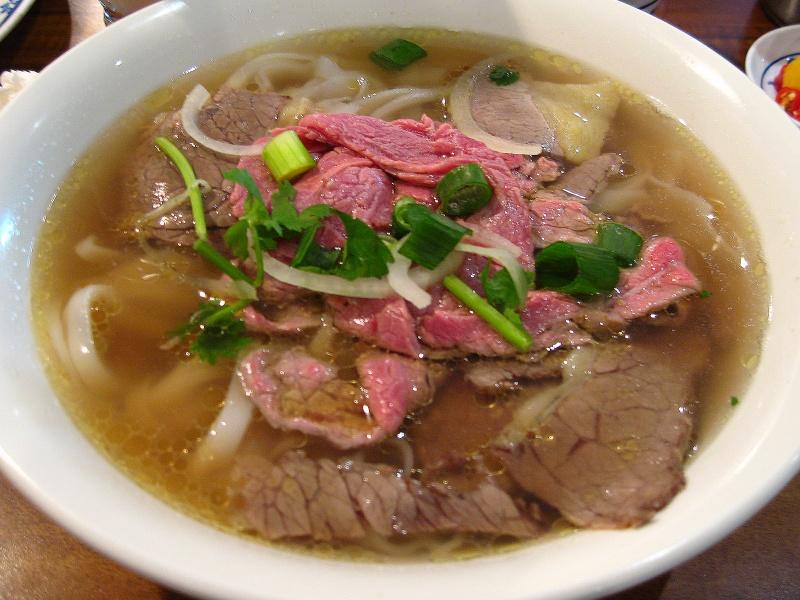 Cooking
Step 1: Preheat oven to 425*F.

Step 2: On a baking sheet, place beef bones with marrow side on top. Bake in oven for an hour or until well browned.
Step 3: On another baking sheet, bake the chicken carcass and the halved onion for 30 minutes or until dark brown (all of these baking together will improve the flavor of the broth). 
Step 4: Put all the bones, carcass, onion, ginger, spice pouch and fish sauce in a big pot along with five quarts of water.

Step 5: Bring the water up to boil and reduce down to medium-low. The bubbles should be present but gentle.

Step 6: Simmer for seven to eight hours. Skim the fat off the top every hour. Add more water if necessary.

Step 7: Strain the broth and dispose of the solids.

Step 8: In a bowl, place in blanched rice noodles, thinly sliced beef and herbs if preferred.

Step 9: Spoon in hot broth. The broth will cook the beef right in the bowl.

Step 10: Finish with a squeeze of lime and a touch of sriracha.
Batata Vada
President Milesh Patel of the Asia club often cooks his favorite Indian recipe: Batata Vada, a popular Indian snack that features fried mashed potatoes with spices.
"It's one of my favorite Indian foods growing up, as my grandpa would always make them whenever he was hungry," Patel explained. "He always made too many, so he'd give some to me, which I was happy to take some since they are so good."

Ingredients:
-4-6 medium potatoes
-4 grams of flour
-8-10 cloves of garlic
-1/4 cup fresh chopped coriander leaves
-Salt
-1/2 teaspoon turmeric powder
-3 tablespoons of olive oil
-1/2 teaspoon mustard seeds
-5-6 curry leaves
-A pinch of asafoetida
-1 tablespoon lemon juice
-1 1/4 cups besan
– A pinch of soda bicarbonate
-1/2 teaspoon red chili powder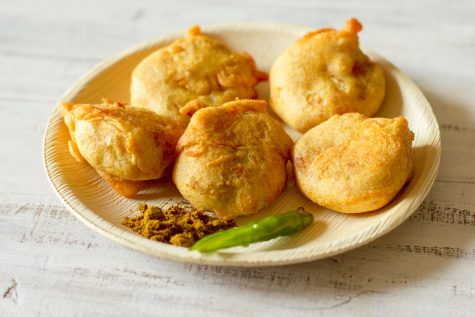 Cooking:
Step 1: Boil, cool, peel and roughly mash the potatoes. Grind green chillies and garlic together in a mixer and make a paste. In a bowl mix mashed potatoes, garlic-green chillies paste, coriander leaves, quarter teaspoon of turmeric powder and salt.
Step 2: Heat two tablespoons of oil in pan, add mustard seeds. When they crackle, add curry leaves and asafoetida. Remove from heat and add to the potato mixture. Add lemon juice and mix well. Make equal sized balls of the above mixture. Keep aside. 
Step 3: Take besan in a bowl, add soda bicarbonate, remaining turmeric powder, red chili powder, salt, one tablespoon of hot oil and enough water and whisk to make a batter of coating consistency. Cover and rest the batter for fifteen minutes. 
Step 4: Heat sufficient oil in a pot. Dip the potato mixture ball in the batter and deep fry till golden. Drain and place them on an absorbent paper.