UNF Associate Professor recognized as an Emerging Scholar of 2019
Dr. Hanadi Hamadi, a University of North Florida associate professor in the Department of Health Administration, was named as one of the Emerging Scholars of 2019 by the magazine Diverse: Issues in Higher Education. The magazine focuses on matters of access and opportunity in higher education. The emerging scholars editions recognizes 15 minority scholars from around the country who are making their mark through teaching, research and service.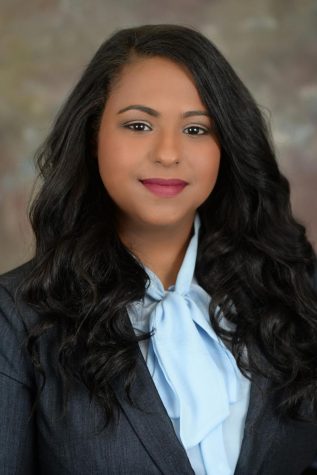 Hamadi has been working in the department of health for five years and enjoys every minute of her job. Hamadi's, initial reaction when she found out she was awarded the emerging scholar of 2019 was that she was in shock. She mentions that the feeling was dreamlike because she had only won one award before in her life which was for a research paper she had done. So it was completely unexpected to her.
"I didn't even know I won it, I didn't realize I won it til the plaque came into my office," she said.
From her understanding, she was nominated by her chair for the award.
Hamadi takes her job very seriously and wants to be able to teach her students about the health information they need for when they get out into the real world. She says when she first started out teaching and doing research projects with her students, it was challenging because she was going from being a student herself to becoming the teacher. It was challenging to take the information she had and turning it into something the students would grasp and hold on too. Also finding her own niche and style the idea of what a good professor should be then actually going into the classroom and analyzing how to be a good professor in her own way.
Teaching alone is a job in itself doing the research and prep work for each class.
"For every semester if it's the same course it needs to be updated the whole course and it's hard work," she said. "If it ever feels like it's easy you're not doing it right."
Hamadi is very passionate professor and that the Chief of the Department of Health felt she deserved it for her contribution to the department and the career field.
"It's an honor and now my job is to make sure that I do hold up to that and continue to engage students, engage the community and do what I do best which is love and teach."  
Some of Hamadi's current research projects include the impact of smoking policy on patient outcomes and hospital performance, examining the impact of community diversity and hospital factors on opioid-adverse events in Florida, and examining the relationships between minority health and trauma center recognition.
—
For more information or news tips, or if you see an error in this story or have any compliments or concerns, contact [email protected]