Former UNF President condemns Szymanski
"You may want a lawyer." "This is bullshit." "Rookie President." 
These are just a few of the explosive texts Spinnaker uncovered in court documents in the case of a former Dean now suing UNF to get his job back. 
Who wrote those inflammatory texts? None other than former University of North Florida President, John Delaney.  
On October 3, 2018, Dr. Mark Tumeo resigned as Dean of the College of Computing, Engineering, and Construction after he was caught engaging in sexual activity with another man on campus. 
That same day, former UNF President John Delaney reached out to Tumeo by texts. 
Only five years from retirement, Tumeo said he felt pressured to resign. Delaney then told Tumeo he made a rash decision and recommended he get a lawyer.
"You may want a lawyer." Tumeo responds by saying his resignation was irrevocable and he doesn't have the energy to fight it.  Delaney responds to that by saying, "if consensual and not a UNF employee or student, I'm not sure I would have fired a line professor for that. Or could have legally."
Roberts, Madison
Spinnaker obtained these text messages the two exchanged the day of Tumeo's resignation. 
Delaney is clearly unhappy with what happened to Tumeo and he takes aim at UNF's current president, "I haven't found anything Szymanski has done that I agree with. Including this."
Roberts, Madison

Roberts, Madison
In one of the last text messages, Delaney expresses his irritation on the overall handling of the situation saying, "It may be too late but this is bullshit. A major overreaction by a rookie President. To an act that is damn private as can be."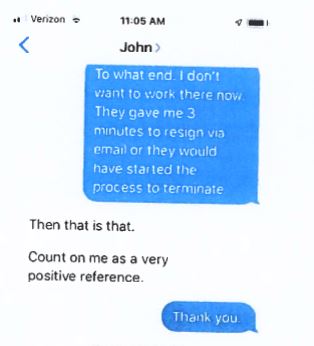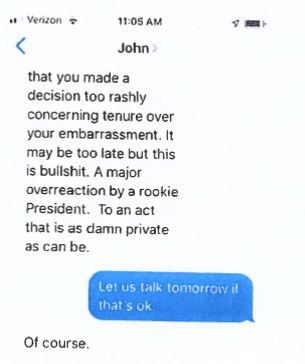 Roberts, Madison
In his final text message, Tumeo said he needs a good lawyer to get his tenure position back. The conversation ends on Delaney stating how his law firm has employment attorneys available if he is ready to bring this to court. 
Spinnaker has reached out to Delaney for comment on these biting texts, but Delaney claimed he did not think it was appropriate to comment while litigation is still pending.
Szymanski was named UNF's new President last March. Delaney called Szymanski's hiring a "good choice." One of Szymanski's first major decisions was to fire then Vice-President of Student and International Affairs, Mauricio Gonzalez.  At that time, Delaney told Spinnaker "President Szymanski is working quickly to put his stamp on the university, and my best wishes go to him."   
President Szymanski and Assistant Vice President of Public Relations Sharon Ashton also gave depositions in the civil suit.  
Judge Kevin Blazs is expected to make a final decision in the next week or so on whether Tumeo can get his job back.
__
For more information or news tips, or if you see an error in this story or have any compliments or concerns, contact [email protected]