Road game brings lessons home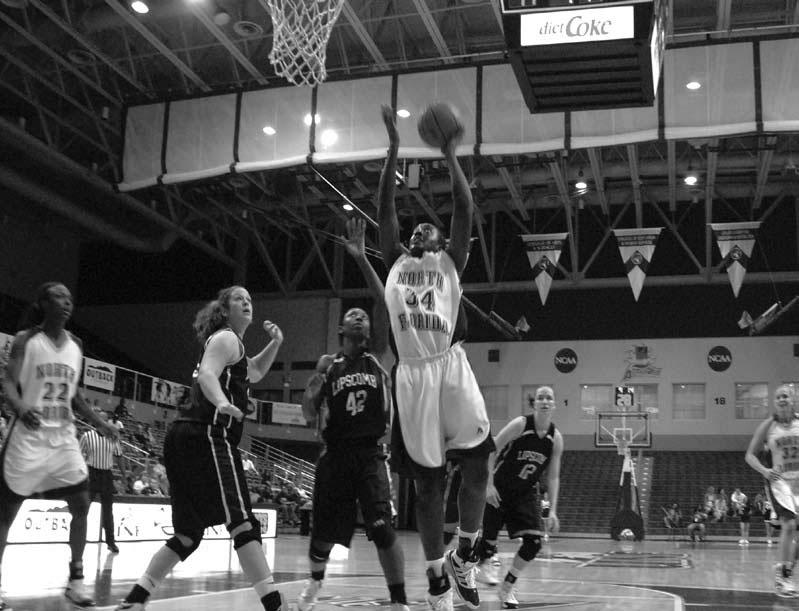 In an effort to defeat East Tennessee State University, the UNF women's basketball team fell short of its goal in a 42-56 loss Jan. 5 at the Memorial Center.
The Ospreys still showed improvement in their average point deficit  going into their match against ETSU, averaging a 29-point spread after turning the ball more than 29 times and going 0-for-5  past the 3-point line.
"I think we did make some improvements, but with the roller coaster ride we as a team have been on, its been a challenge," said head coach Mary Tappmeyer. "Im happy with the measures we were able to make, but were never happy with a lose."
Senior guard Jennifer Bowen finished with 17 points on the court. Bowen also got the team motivated when she followed her own miss with a rebound and a layup to make it a 6-4 game before the Buccaneers scored the next 11 points in the match.
"We did make some great plays, and Bowen really stepped it up and led the team to a stronger offense," Tappmeyer said. " Its just exposing the girls to the rigors of traveling and not letting it affect us on the court."
Following Bowen with an 8-point lead was freshman guard Brittany Kirkland hitting the majrity of the needed baseline shots down the stretch to keep the game within 10 points. UNF allowed the Bucs 15 offensive rebounds, not making it easy to come back for the Ospreys.
Turning the ball over 20 times in the first half, the Ospreys fell behind by as many as 15 points before making a late charge to end the half. The Ospreys started the second half by missing their first five shots from the court and falling behind by 13 points.
Bowen scored a pair of jumpers that made it a 34-24 competition. But when two crucial fast break opportunities presented themselves and the Ospreys fell short, they gave the Bucs the advantage they needed.
A layup from junior forward Willonda Windham, followed by Kirkland's follow-up shot, made it a close contest with just less than five minutes left in the play.
UNF had a 28.9 shot percentage for the game and managed to hold ETSU to a 30.2 percent shooting. The Bucs only hit 2-of-17 3-pointers.
"If the girls take the lessons they've learned against playing ETSU, we will do much better against Kennesaw," Tappmeyer said. " I like our odds against Kennesaw and the experience of five games of being on the road."
UNF will return home at 7 p.m. Jan. 8 where they will play Kennesaw State University.
E-mail Heather Furey at [email protected]