Owls defense shuts down Ospreys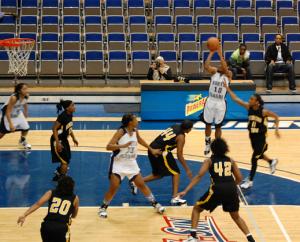 The UNF women's basketball team lost 60-50 to Kennesaw State University Jan. 8
after controlling the lead for most of the first half.
UNF made 16 of its 32 shots in the first half to finish with its highest first half point total of the season. However, in the second half UNF scored 15 points off of a .217 shooting percentage.
"The team showed a lot of energy, emotion, confidence and swagger in the first half," UNF head coach Mary Tappmeyer said. "But I don't think we played the same way in the second half. We missed a couple of shots early and really didn't have the same swagger we had early in the game."
The Ospreys began the game by pulling out to an 18-9 lead in the first seven minutes.  However, the Owls quickly diminished the lead to within 22-20 four minutes later.
With 6:38 left in the first half, the Owls went on an l1-0 run to take a four- point lead.
The momentum continued to shift in favor of the Owls after guard Gia Lockett
hit a half-court shot with .4 seconds left on the game clock to put to Owls on top 39-35 at the half.
"A shot like that from half-court at the buzzer changes the mentality at halftime and forces us to rethink what we're doing," Tappmeyer said.
After leading 46-45 with 13:39 left in the game, the Owls went on a nine -point run to pull out to a ten-point lead with 8:53 remaining.  The Ospreys were able to hold the Owls scoreless for the next five minutes, but the Owls only allowed the Ospreys to score five more points the rest of the game.
"When our kids commit to the defensive end, we are a very good defensive team," Tappmeyer said. "But I think we lost some of our aggressiveness on the offensive end after we made some stops. We didn't look to push it in transition and be as aggressive as we were in the first half."
Owls' forward Britteney Henderson grabbed a game-high 10 rebounds, including six on the offensive glass, to help KSU top the Ospreys, 38-35, in total rebounds. Senior guard Jennifer Bowen led the Ospreys with five rebounds while junior forwards Arlande Cherizol and Shennette Sheffield and sophomore point-guard Juliemay Syquio each added four.
Although the Ospreys were able to control the tone of the game by setting up their plays in the first half, their offense was completely shut down by the Owls in the second half, Bowen said
UNF will return to action Jan. 15 when it faces off against Jacksonville University in the River City Rumble meeting.
E-mail John Weidner at [email protected].