Ospreys set highest margin of victory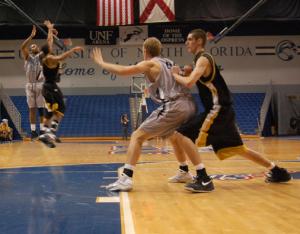 The UNF men's basketball team defeated Atlantic Sun rival Kennesaw State University Jan. 9 66-44 for its first win in conference play and largest margin of victory against an NCAA Division I opponent.
UNF (3-12, 1-4 A-Sun) snapped a four-game losing streak and kept Kennesaw State to 16 points in the second half. Four of UNF's starters scored in double figures led by freshman forward Matt Sauey, who scored 15 points.
UNF out-rebounded Kennesaw State 48-33 and pulled down 20 offensive rebounds, which accounted for 19 second-chance points. Junior guard Germaine Sparkes led the way for the Ospreys with a career-high 13 rebounds. Jonathan Whipple also collected a team high six rebounds for Kennesaw State.
"I got a couple of rebounds early in the game, and eventually, they started falling in my hands," Sparkes said. "The rebounds motivated everybody, and we went back on the offensive end and turned them into points."
Kennesaw State kept the advantage over UNF through the first five minutes of play, but freshman forward Matt Sauey's layup tied the game 12-12 with 14 minutes,25 seconds on the clock. Two possessions later, senior guard Cortez Riley gave the team a 15-12 lead, which UNF would not give up for the rest of the game. UNF's largest lead in the first half was nine points after Riley hit his second 3-pointer, making the score 35-26 in the final minute of play in the first half.
After a basket by Riley at the 13:17 mark in the second half, the Ospreys went on a 14-3 rally that ended any hope the Owls had to catch up. During the run, Sauey dominated the post by scoring eight points, recording a blocked shot and rallying the crowd with an impressive dunk.
He finished 7-of-9 from the field with five rebounds and a steal. Kennesaw State recorded six made shots in the second half while UNF had a season-high 48 rebounds.
"Our defense had key stops when we needed them," UNF head coach Matt Kilcullen said. "We played hard and we played aggressive. We played to win and that's the mentality of this team."
UNF will take on rival Jacksonville University in the River City Rumble at 7:45 p.m, Jan. 15, at the UNF Arena.
E-mail Matthew Hersch at [email protected].