Los Campesinos! brings beauty, doom to Jacksonville
Spinnaker
January 14, 2009
Hang on for a minute...we're trying to find some more stories you might like.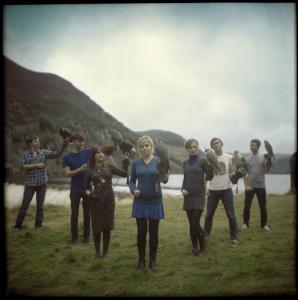 Welsh septet Los Campesinos! – an obvious misnomer loosely translated as "farmers" or "peasants" –
will perform at Jacksonville venue Jack Rabbits Jan. 19 in support of its latest album "We Are Beautiful, We Are Doomed."
The album marks the second full-length (though the band doesn't acknowledge it as such) album the band released in 2008, hot on the heels of the critically acclaimed underground smash-hit debut "Hold on Now, Youngster…," which featured the singles "You! Me! Dancing!" and "International TweeXcore  nderground." But the 32-minute, 10-track mini-album seems too solid a piece to refer to as anything less than a complete work.
Releasing two albums in the same year might seem like an overly ambitious feat, but Los Campesinos! seems to be up to the task. One might assume the new album is merely leftovers, B-sides and scrapped tracks from the first release, but the kids from Cardiff have assured fans this isn't the case. In fact, the new album is an artsy, noise- laden, cohesive and beautiful mess.
Though the band might have grown up a bit musically, which is not an easy task in about six months, its sound has not drastically changed since its first release.
Smarmy and cheeky lyrics dot the landscape of the album's noisy, jumpy and catchy dance beats which are laced with a punky feel, sometimes harkening back with a nod to fellow countrymen Stiff Little Fingers. Yet at times, a somewhat restrained attitude with a low-level bombast reminiscent of Canadian musical contemporaries New Pornographers or Arcade Fire shines through.
The themes on "We Are Beautiful, We Are Doomed" mimic those of "Hold on Now, Youngster…," where the self-loathing, anti-romance and lovelorn desperation once again come through with a great deal of success. The eclectic mix of guitar, violin and glockenspiel ensure you'll be nodding your head in approval while some songs simultaneously beg you to jump out of your seat and start a bedroom dance party.
Many of the songs from the new release are from-the-heart sing-a-longs-to-be, keeping in line with the band's first album. Some of the topics covered on the album include drunk-dialing: "I'm calling you again on your telephone/And all I ever get is another stupid ring tone/He's gonna get drunk and call you at four in the morning (I know!)/He's gonna get drunk and call you at four in the morning," in the song "It's Never That Easy Though, Is It? (Song For The Other Kurt);" and mocking the self-deprecation of others: "Extorting money from your parents/Your disgusting parents/Honestly you're an absolute waste of time/Craving attention with your self-deprecation/I'll tell you one thing, it's spot on/And I'm better," in "The End of Asterisk."
However, regardless how you relate to the lyrics, if the live footage available of Los Campesinos! is any indication, you're sure to dance yourself into a sweaty oblivion at Jack Rabbits Jan. 19. Most of the footage looks like it was shot on the tilt-a-whirl at the county fair because of the feverish and footloose romping the music evokes.
Lace up your dancing shoes; Los Campesinos! will perform with opening band Titus Andronicus at 8 p.m. Jan. 19 at Jack Rabbits – 1528 Hendricks Ave. Tickets are $12 in advance and $15 the day of the show.
E-mail Jason Yurgartis at [email protected]