DeSantis shakes up public universities, ramps up his war on 'woke'
Gov. Ron DeSantis has required all public Florida institutions to assemble a list reporting their use of state resources for any programs and courses related to diversity, equity and inclusion (DEI), and critical race theory (CRT), according to a memo obtained by Spinnaker. 
With the subject line of "Higher Education Program and Activity Survey," the memo requires that all State University System institutions provide a "comprehensive list of all staff, programs, and campus activities related to diversity, equity, and inclusion, and critical race theory within [Florida's] state colleges and universities."
What is Memo # 23-021?
Initially sent by Chris Spencer, DeSantis's director of policy and budget, to Florida Department of Education Commissioner Manny Diaz and State University System of Florida Chancellor Ray Rodrigues on Dec. 28, 2022, the memo lays out details for exactly what each institution must supply. 
Each institution must detail the following costs associated with the administration of each program or activity, as provided by the memo:
Brief description of the program or activity;

Positions, including full and partial FTE (FTE refers to full-time employees); 

Total funding spent to support the initiative; and 

Of the total spent to support the initiative, the amount that is state funded. 
DeSantis has "prioritized a cost-effective higher education system that delivers high quality service to Floridians to best prepare them for employment," according to the memo. 
Read the memo in its entirety here. 
The following day, Chancellor Rodrigues included the memo in an email to all SUS institution presidents. He also included a blank survey spreadsheet where the information is to be entered.
"As you gather the data requested, do NOT include academic instruction for student credit hours IF the course is an elective," Rodrigues wrote in his email. "ONLY include academic instruction for student credit hours if the course is REQUIRED and contains the applicable diversity, equity and inclusion and/or critical race theory."
That same day, University of North Florida deans received an "extremely time-sensitive" email from Karen Cousins, associate vice president of strategy and implementations, requesting they identify courses within their college that contain "DEI and/or CRT components." 
She highlighted that the list should be sent no later than Thursday, Jan. 5, and include the following elements:
Course number and name

CRN

Number of credit hours

Name of instructor of record (Cousins' email notes that this is for UNF's purposes only and

will not

be included in the survey form.)

Rank of instructor of record (Cousins' email notes that this

will

be included on the survey form.)

Is the course Gen Ed?

Is the course required for the major?
The governor's request applies to all programs and initiatives, including "academic instruction," according to Cousins' email. Read Cousins' email in its entirety here.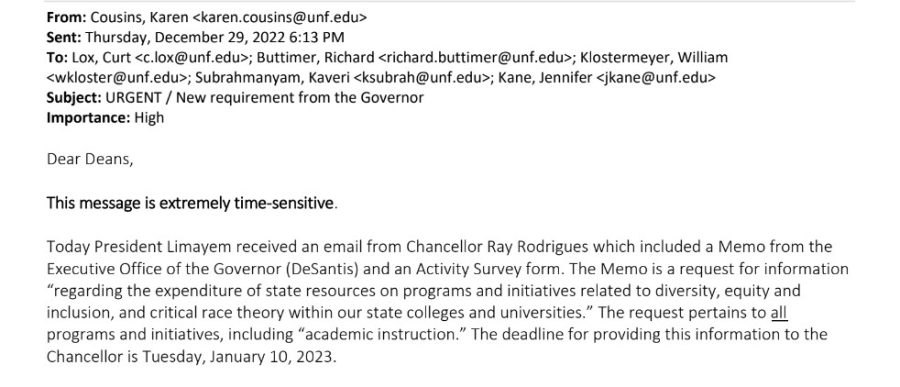 A history of controversy
Already a state known for its controversial legislation, the release of this memo is ringing alarm bells for UNF's faculty union, the United Faculty of Florida (UFF-UNF).
"UFF-UNF was alarmed to hear about this request," UFF-UNF President Elizabeth Brown wrote to Spinnaker. "We are especially concerned about the potential chill this type of request could have on instruction at the university, especially as it relates to the ongoing attack on academic freedom (stemming from HB7, which was recently put on stay) and the pending post-tenure review policy by the Board of Governors."
In Nov. 2022, a federal judge put House Bill 7 — dubbed the "Stop WOKE Act" by critics — on pause. Championed by DeSantis, HB7 restricted how lessons on race and gender could be taught in colleges and universities. 
"UFF strongly supports faculty members' rights to academic freedom and open discourse. UNF faculty should not have their first amendment rights or their academic freedom violated, and faculty should be able to teach the subjects they were hired to teach, consistent with the UNF strategic plan for inclusive excellence," Brown wrote. "UFF also believes that college students should be allowed to explore various topics throughout their college experience without government interference."
Dr. David Jaffee, a sociology professor at UNF, believes this memo is just DeSantis's latest attempt to "push this anti-woke campaign in higher education."
Neither the email nor the memo provides any guidance for how CRT and DEI are to be identified in course materials, which Jaffee warned could lead to confusion as to which program and activity should be reported. 
Next steps
With a hard deadline of Friday, Jan. 13, 2023, set by the memo, Chancellor Rodrigues wrote in his email that the Board of Governors needs the information by "the close of business on January 10, 2023," to give them enough time to collect data from all 12 institutions, coordinate with the Department of Education and meet the governor's deadline. 
Spinnaker requested comment from both President Limayem and the chancellor, answering how DEI and CRT are being defined and why that information is being requested but did not receive a response from either by the time of publication. Spinnaker called DeSantis's office but, due to a high volume of calls, left a voicemail.
___
For more information or news tips, or if you see an error in this story or have any compliments or concerns, contact [email protected].