Moez Limayem, the University of North Florida's seventh president, was awarded the National Academy of Inventors (NAI) Sentinel Award for his contributions to innovation and invention, the university announced last week. 
An honorary NAI member for several years and previously serving as a principal investigator for the organization, Limayem was presented the award at the NAI's 12th annual meeting in Washington, D.C. late last month.
Limayem has been a member of the group since well before he became UNF's seventh president, dating back to his time as the dean of the USF Muma College of Business. 
First introduced last year, the award acknowledges individuals "whose actions and support help fulfill the NAI's mission to continually recognize inventors with U.S. patents and enhance the visibility of academic technology and innovation," according to the university's announcement.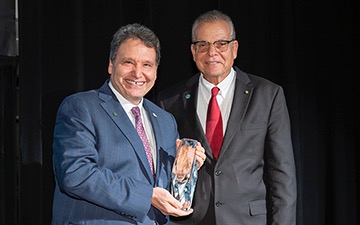 At last year's annual meeting, Dr. Paul R. Sanberg, founder of NAI and Senior Vice President for Research, Innovation & Economic Development at the University of South Florida, awarded the first Sentinel Awards to Dr. Karen Burg from the University of Georgia, Dr. Robert Duncan from Texas Tech University and Andrei Iancu, director of the U.S. Patent and Trademark Office.
Sanberg described the award as being "about people that have carried our mission forward and moved it to the recognition it has today," during the 2022 ceremony.
History of NAI 
In early 2009, Sanberg decided to hold a luncheon for all USF faculty and staff who held an issued U.S. patent to attend, and over 100 people showed. 
Soon after, the USF Academy of Inventors was established to recognize inventors on campus, and as Sanberg continued to spread his idea to universities across the country, the NAI was born. They held their first Annual Meeting in 2012. 
The NAI is a member organization composed of U.S. and international universities, governmental agencies and non-profit research institutes. It currently has over 4,600 members.
The organization was created to recognize and encourage inventors with U.S. patents, enhance the visibility of academic technology and innovation, educate and mentor innovative students and to create a wider public understanding of how its members' innovations benefit society, their website states.
The NAI's Annual Meeting is held in June each year and "brings together hundreds of the greatest minds on the planet and provides a unique opportunity for sharing knowledge and networking with cutting edge researchers and innovators."
___
For more information or news tips, or if you see an error in this story or have any compliments or concerns, contact [email protected].