Hate Ends Now Tour brings the fight against antisemitism to UNF
When she was 15 years old, Hedy Bohm was taken to Auschwitz where she was separated from her parents, enduring months of torture at Nazi concentration camps. She survived long enough for liberation in 1945 and, to this day, travels, telling her story to schools nationwide.
Presented by the Hate Ends Now Tour, the University of North Florida (UNF) welcomed a traveling Holocaust exhibit last Tuesday and Hedy Bohm addressed a room of people at the Chabad Center later that night. 
In partnership with the Chabad Center at UNF and the Interfaith Center, the Hate Ends Now Tour brought an exact replica cattle car that was used to transport Jewish people to concentration camps during the Holocaust. While inside the car, videos and images were projected on each wall, displaying stories from survivors, images and reenacted videos.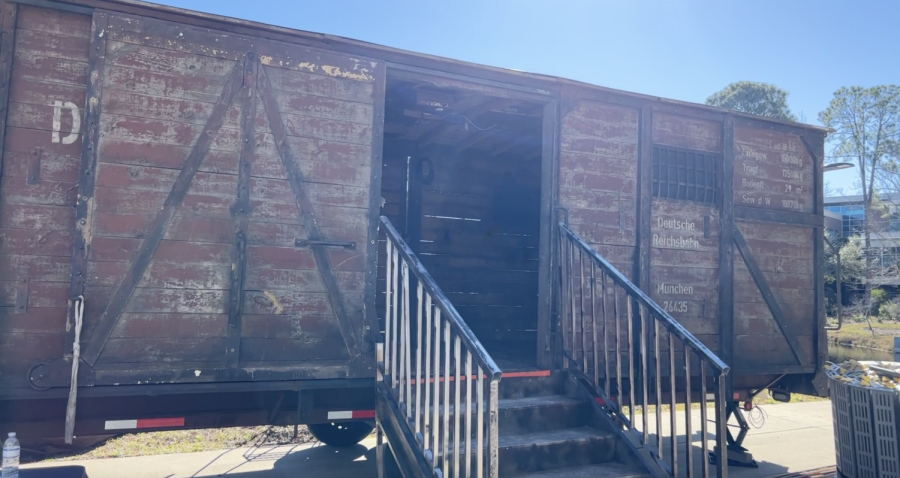 The concluding messages expressed to participants that "together, we must be brave enough and strong enough to say, never again." 
"I think using new technology and multimedia exhibits is a great way to engage people," Lee Jordan, a UNF junior studying sociology and board member of UNF's Jewish Student Union, said. "Especially because learning about genocide is really difficult knowledge and it's hard to learn about, emotionally, for everyone even if your family wasn't affected."
Jordan, who is also involved with Jewish Ospreys, explained that Holocaust education is very important. Citing a report last fall where a Jewish student Mezuzah was torn from their door and a Swastika drawing was left, Jordan said this initiative could help students understand the Holocaust from a more human point of view.
Jordan said that he hopes this exhibit will empower students to stop the hate that exists today, whether that's to Jewish people or any other group. 
These once-in-a-lifetime opportunities came to UNF at a time when both the nation and the Jacksonville community have been facing a rise of antisemitism attitudes and attacks.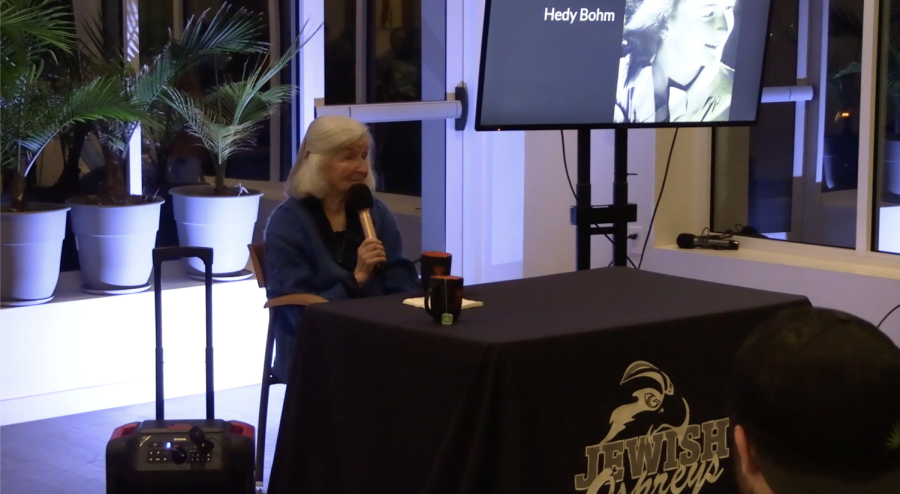 Just last weekend, a photo circulated on social media showing a Swastika sign displayed on the CSX building in downtown Jacksonville during the Jacksonville Jaguars playoff game. In November, an antisemitic message was projected on the back of the video board at the TIAA Bank Field, and similar messages were seen on downtown buildings and hung from an overpass. 
At 7 p.m. the night of the Hate End Now tour's visit, Holocaust survivor Hedy Bohm spoke to a room filled with UNF students, faculty and others at the UNF Chabad Center.
Bohm shared her story — from what life in Hungary was like before being taken to Auschwitz at just fifteen years old, what she went through during the long months she spent at various camps, what liberation felt like when the war ended in 1945 and the events of her life post-Holocaust. 
She encouraged the audience to value and be grateful for everything they have — a home, parents, education — and to tell their parents and friends they love them. She stressed the importance of standing up to bullies and intolerance when you see it. . . and to learn martial arts. 
Bohm immigrated to Canada in 1947 where she married and started a new life and family. Since 2011, Bohm has traveled all around the country to various schools, telling her story as a survivor. 
To watch Spinnaker's full coverage of this event, click the video at the top of the article.
___
For more information or news tips, or if you see an error in this story or have any compliments or concerns, contact [email protected].