UNF spent $200,000 on performers for Ozfestival, documents show
Ozfestival has come and gone, but that doesn't mean there wasn't feedback from the students in attendance to unpack, and, come on, who doesn't want to hear about how much the University of North Florida paid the performers?
This year's annual event saw four separate artist performances, one from UNF and three not. Each performer was paid in varying amounts and Yung Gravy, as the headlining artist, was paid the most.
For a 50-minute performance, Fivio Foreign was paid $55,000, according to the contracts released to Spinnaker by UNF. For 60-minute performances each, B.o.B. was paid $30,000 and headliner Yung Gravy was paid $115,000, the contracts said. For reference, UNF paid Don Toliver—the performer at OzFest last year—$165,000, according to documents requested by Spinnaker.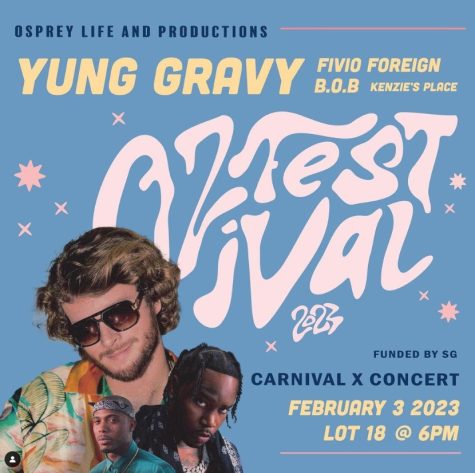 Here's a list of some of the items Yung Gravy requested be backstage, as they appeared in his rider which Spinnaker received a copy of:
3 pizza Lunchables, 3 lunch meat Lunchables—they were later thrown to the crowd during his performance

2 strawberry rhubarb or raspberry Greek yogurts

3 bottles of flavored Pedialyte

3 boxes of cereal (each different, venue can choose)—which was shortened to one box

A half-gallon of 2% milk

Some strawberries, bananas, blueberries and red grapes (seedless)

Immunity shots, 6 Ginger shots, 6 digestion shots—which were minimized to three

1 bag of peppered beef jerky

2 packs of mint gum
While the rapper got mostly everything he requested, he was denied one pair of white Nike Air Force 1s (low, size 13), a 12-pack of Pabst Blue Ribbon and one bottle of liquor.
On top of the list of "hospitality" items, Yung Gravy's performance required the university to provide several pieces of gear equipment that were in an agreement separate from the artist's charges, according to Scott Bennett, vice president of UNF's Administration and Finance.
Feedback from students
With four performances and multiple attractions like a Ferris wheel and bumper cars, this year's Ozfestival saw a large number of guests and what some students said were too few utilities. 
John Corrigan, a UNF student who attended Ozfestival both this and last year, said that this one was a step up in the quality of the acts, but there were a few aspects of the event he noted that could be improved for next year.
 "I don't think they were prepared for that many people to show up," Corrigan, a junior majoring in environmental studies, said. "I feel like they could have done less with the rides and put that money towards having more porta potties because the line for the porta potties was the longest line at the event."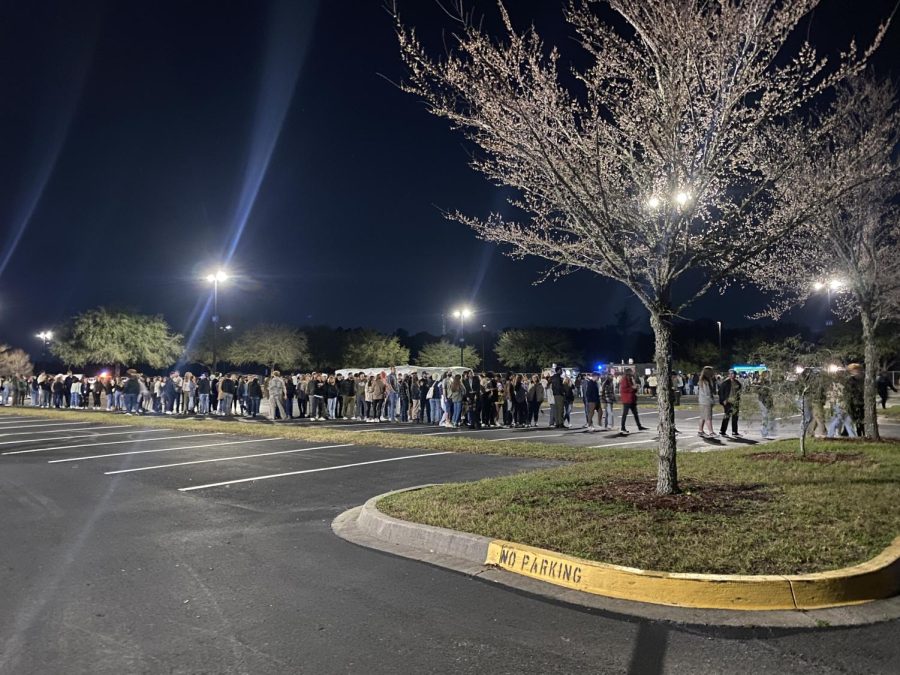 He explained that both the free merch and the food trucks ran out of supplies early on, something he and his girlfriend were looking forward to. However, Corrigan liked the idea of the beer garden and is looking forward to being able to attend that area when he turns 21. 
Next time around, Corrigan suggested that the event focuses on the performances and supplies being maintained and less on the attractions. 
 Kaley Petrosky, a fifth-year senior at UNF working on her master's degree in sports management, said she arrived at the event 30 minutes before the gates opened at 6 p.m. and waited in line for almost two hours. 
For improvement, she suggested having a better system for food and merch because her experience saw a lack of both. 
 "Either limit or give tickets for food because there were some people who already got swag, got one of everything, and went to all the food trucks," Petrosky said. "So, when you got there, you had two options, and they're both running out."
However, Petrosky said she thought there was a good amount of people at the event, and she really liked the photo booth which sent photos directly to cellphones. 
Spinnaker reached out to UNF Osprey Life and Productions about students' complaints. 
"OzFest was a very popular event. We have plans to increase the amount of porta potties next year. Vendors were available for three hours until the headlining act went on stage. We had over 4,000 food items available to students during the event including drinks and a water station," OLP Director Maria Steadman wrote in an email to Spinnaker. 
"We are reassessing our food supply list for future concerts based on increased attendance at recent events. 1,000 t-shirts, 1,000 tote bags and 300 beanies were distributed quickly and we pulled an additional 1,000 cups to give out at the end of the event. We hope to have additional merchandise next year."
___
For more information or news tips, or if you see an error in this story or have any compliments or concerns, contact [email protected].