"Thank you": Limayem officially inaugurated as UNF's seventh president
Hundreds filled the Lazzara Performance Hall Friday morning for Moez Limayem's official inauguration as the University of North Florida's seventh president. Guests ranged from students, faculty and staff to local leaders, family members and close friends. 
The morning started with a processional as Limayem, faculty, students, staff and special guests walked from the UNF Arena to the Lazzara Performance Hall on the Green. They were dressed in full regalia and led by the UNF Drumline and bagpipers. 
Upon arriving, members of Students for a Democratic Society stood outside, facing away from the procession that began entering the ceremony. With homemade signs, they silently protested for diversity, inclusivity and transparency. 
Inside, it was a day of celebration as attendees filled each seat, row by row. 
Later, Board of Trustees Chair Kevin Hyde would present President Limayem with his medallion with all of UNF's president's names etched on it, but first guests heard from speakers. Local and state education leaders, university and family members praised the president, noting his high goals and infectious smile.
Faculty Association President Dr. Mike Binder said he's come to see President Limayem as a friend and that UNF is better for having him. "[Faculty] don't always feel appreciated," he said, "but it's different today." 
Saying that he is "deeply passionate" about UNF, Jacksonville City Council President Terrance Freeman said he is grateful to the university for its military support. He welcomed Limayem to North Florida and is excited about the future.
Florida State University System Chancellor Raymond Rodrigues had similar praise. He expressed confidence in Limayem's abilities and complimented how the president has high goals for himself. 
The model for student success must be "unrelenting," the chancellor said.
Making it official
Skylar Close, a UNF senior honors student majoring in English, performed her spoken word poem "Ode to Your College Roommate" before BOT Chair Hyde took the stage for a speech and to present President Limayem with his medallion. Close is also Spinnaker Radio's program director. 
Limayem was introduced by Dr. Bill Hardgrave, the president of the University of Memphis. The pair have been friends for nearly two decades, he said. 
"The only thing more impressive than [Limayem's] resume is his vision for UNF," said President Hardgrave. "Exciting times are indeed ahead."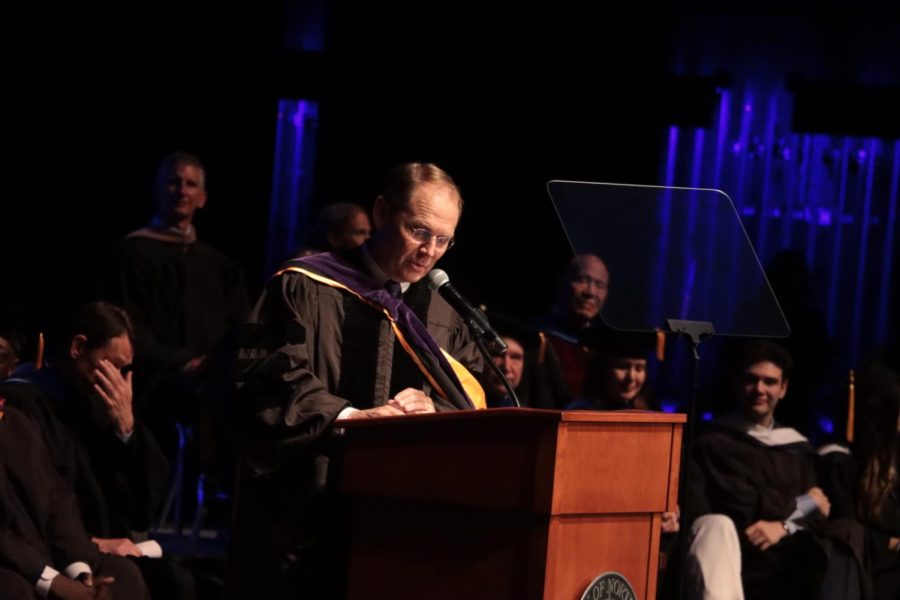 The day's theme was "Soaring Higher Together" to reflect the idea that the university community was working together for student success, which Limayem noted in his speech. 
For the better part of an hour, President Limayem thanked everyone that has helped him on his journey. He also discussed the state of higher education and the challenges ahead. 
Between "serious divisions" across both the state and the country, the value of a college degree, enrollment and technology, there's a long road ahead, the president said. 
Addressing technology, which he said can bring both challenges and opportunities, President Limayem quoted a short paragraph that he had ChatGPT, an Artificial Intelligence program, create. The paragraph was only an example, he emphasized.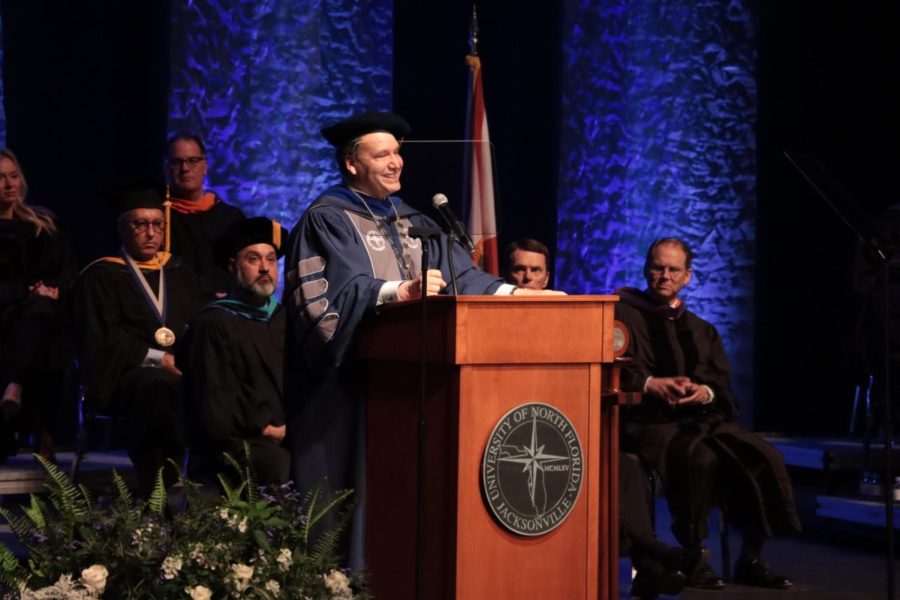 Bringing in some numbers, he said that UNF had a $1.3 billion economic impact on Florida. The university has had a significant return on investment regarding state funding—$10.63 for every state dollar invested, Limayem said. 
Looking toward the future of his presidency, Limayem said that one of his goals is for UNF to become one of the Top 100 public universities in the U.S. News & World Report annual college rankings. Currently, UNF is No. 132 among the top public schools, according to those rankings. 
Limayem emphasized four strategic areas of focus for the university: student success, research and innovation, community partnerships and faculty and staff success. He also shared that UNF has already received gift commitments that will exceed its fundraising goal of $25 million for this fiscal year.
Strength in family
Limayem said that there is "no doubt" his real strength comes from his family and dedicated his presidency to his mother, who passed a few weeks ago. 
"Mom, I miss you so much," Limayem said. "I dedicate this presidency to you."
"You taught me the meaning of unconditional times and yes, at times, patience," Limayem told his children during his speech. He also thanked Dr. Alya Limayem, the "love of his life," for her support. 
"I'm sure [Limayem] will bring UNF to a new era of success," Dr. Alya Limayem said earlier in the ceremony. "Together, we make greater future." His children, Karim and Sara, also expressed similar sentiments about Limayem. 
The day ended with a celebration in the Student Union Plaza where there was music, food and the university gave out five $2,500 scholarships.
___
For more information or news tips, or if you see an error in this story or have any compliments or concerns, contact [email protected].