The University of North Florida men's soccer team started their home schedule this past weekend as the Ospreys faced off against the College of Charleston Cougars on Sunday evening, with stiff competitiveness from both teams resulting in a 1-1 draw.
North Florida started off hot in the first half, with sophomore North Carolina transfer Luc Granitur scoring early in the period off an outlet pass from junior Joaquin Acuna in what was the first goal of the 2023 season. This along with some great work protecting the net is what led to the Ospreys garnering a 1-0 lead at the end of the first.
The tide started to turn in the second half, however. The Charleston Cougars eventually responded with a goal of their own thanks to a rebound from a previous shot attempt. This goal brought about a further stalemate for the rest of the period, thus leading to the 1-1 final score.
When interviewed about what insight could be taken from this game, head coach Derek Marinatos pointed that once the team is able to settle and get comfortable with the game plan, then the winning opportunities will present themselves.  
"I think we took a step forward as a group" Marinatos said, "I think that once we settled down in the second half after we gave away the first 10-15 minutes of the game, and credit to Charleston, they came out and pressed us. We said they were going to, I think we played into it a little bit. I thought we settled down and played a good bit and showed that we can pin teams in at times and really create some quality chances".   
Charleston pressed the Ospreys indeed, with the Cougars attempting 20 total shots compared to North Florida's nine. 11 of those shots also came in the second half, further emphasizing the pressure in the later moments of the contest.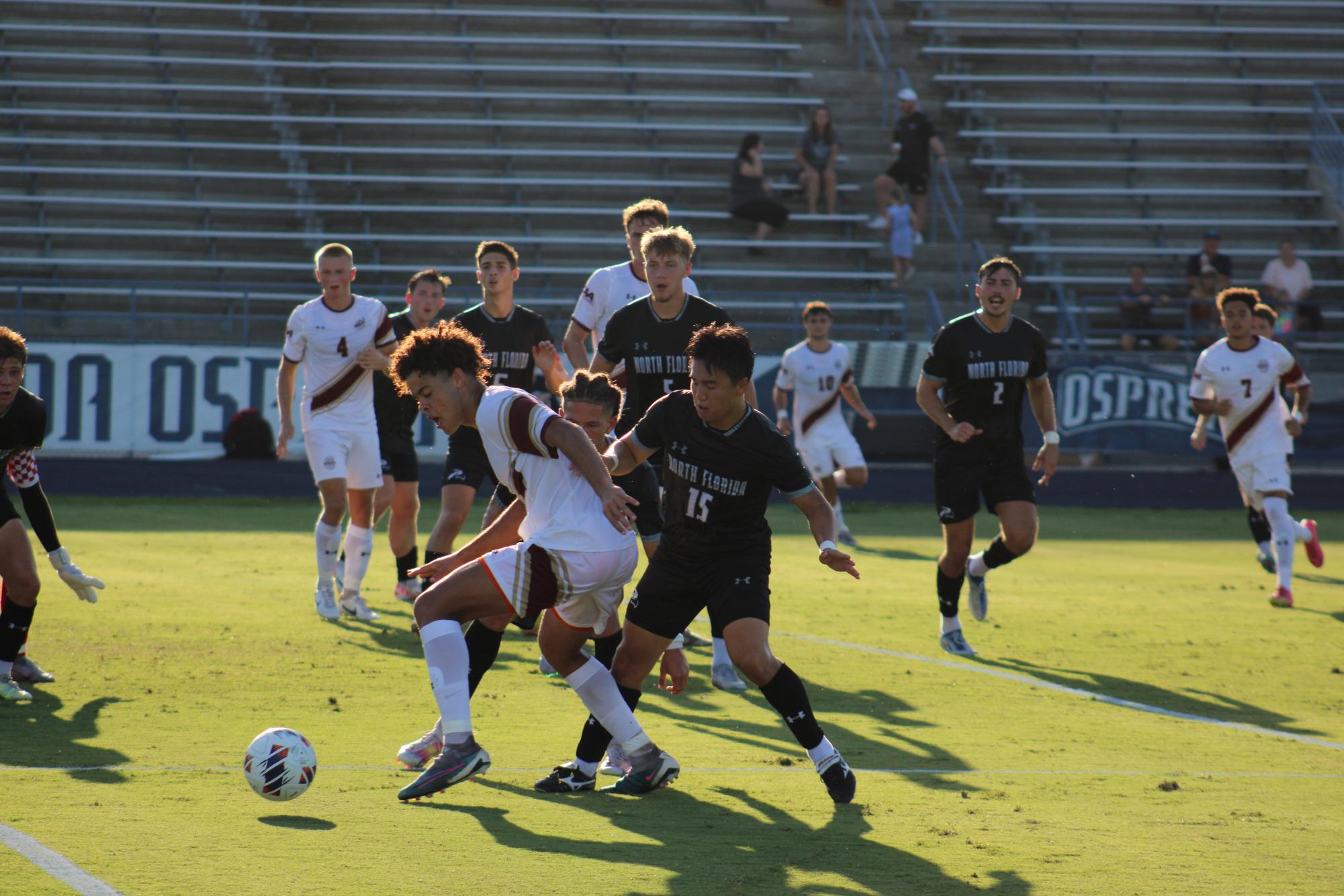 Despite this, sophomore goalkeeper Chema Preciado was all over, preventing Charleston scoring opportunities at seemingly every corner. The Windermere native garnered seven total saves, four of which coming in the second half, in what was only his second start at goalkeeper. 
North Florida will continue to play at Hodges Stadium this week, as with weather permitting the Ospreys are set to take on the Winthrop University Eagles this Friday evening at 7 p.m. The Ospreys will then finish out the weekend on Sunday as they are set to play against St. Thomas University at 7 p.m.
Information on scheduling and rosters as well as further updates on all things Ospreys can be found on the UNF Athletics website. 
___
For more information or news tips, or if you see an error in this story or have any compliments or concerns, contact [email protected].