"I've been drunk for two weeks, which also means I've been hungover for two weeks," Dawson Bass half-joked through tired eyes. 
86 Hope, founded by Bass, had been on tour the past two weeks, and their grueling journey was coming to an end that night at a hazy dive bar in the heart of Springfield: the Shantytown Pub. A final car ride loomed in the immediate future of the young troubadours. Still, the intimidation of this hundred-mile journey subsided with the promise of diner food and a hot shower.
Though their looks suggest hardcore punk, 86 Hope plays a melodic blend of bluegrass and folk punk, similar to the works of Lumineers and AJJ. 86 Hope humbly debuted with their 2016 EP, Need Not Nothin'. This album, written by Bass, was directly inspired by his time living in the forest with his father. 
"There wasn't much to do except fish and play guitar," Bass recounted. "I think a lot of it was just being out in nature and getting drunk."
Two years after Need Not Nothin', 86 Hope announced the release of Not Quite Tight, introducing their drummer, Wesley Durden, and their bassist, Gabriel Le. Bass was taken by Durden's musical talents—he'd known Durden from a previous punk band called Dildozer—and eventually recruited him as the drummer for 86 Hope. 
Le joined shortly after her and Bass were introduced by friends, an introduction motivated by their mutual interest in playing the banjo. Despite the band's acquisition of drums and bass, 86 Hope retained their soulful folk sound but began introducing faster elements.
86 Hope had been gaining traction in their hometown of St. Augustine, Florida, pinballing between Shanghai Nobby's and Sarbez, two local indie music venues, before scoring a slot at the Sing Out Loud Festival, a yearly music festival featuring local acts and big names alike.
Drifters, old heads, and kids in the know alike sipped their beer and nodded along with great interest. Jacksonville's music scene lacked folk bands, and that night, the city would be getting a taste of St. Augustine's bluegrass sound. This interview has been edited for concision and clarity. 
Where does the name '86 Hope' come from? 
Bass: Me, Wesley, and Gabby have all worked in kitchens. To "86" something means that there's no more of it and you are out of it. So it means "no more hope." It's kitchen jargon. 
Who are 86 Hope's influences? 
Durden: The Replacements is definitely one, Modest Mouse is definitely one, Jerimiah Green, who passed away earlier this year is definitely an awesome drummer […] The Pixies are definitely an influence. Any kind of punk rock n' roll, really. 
Bass: I grew up on bluegrass, so vocal style-wise, I try to keep it bluegrassy and jangly and twangy. I play banjo too, so that's definitely an influence. 
What's the history of the band? 
Bass: It was a solo project for the longest time, and I fucking hate playing solo. Me and Wesley were in a band called Dildozer and that band broke up, and I was like "well I wanna keep playing music with Wesley because he's the best dude and a great drummer … so I took the solo songs and put a band behind it. [Le and I] have been together for over eight years now. I met her, and she played a ton of instruments, so it just made sense to add her. We sing together at home all the time.
Le: I was in orchestra and I was in band, and I would always play second chair part, which had to be the harmony. That's just the way my brain hears it. I like to sing the harmony … and I play bass kind of good.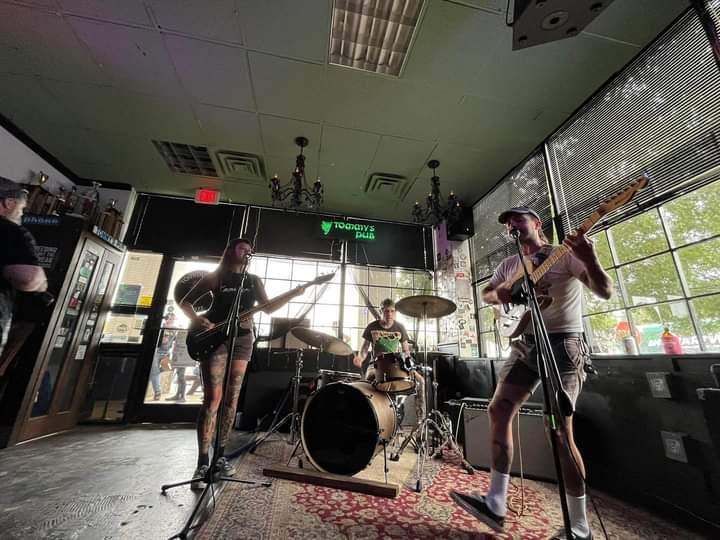 How did Dawson and Gabby meet? 
Bass: I was playing a show at Shanghai Nobby's in St. Augustine, Florida, with Dildozer and Early Disclaimers and she was playing in a band called "Math Debt". She played banjo, and I played banjo, and everybody was telling us that we should meet just because we play banjo, which I thought was fucking dumb. But it stuck. It worked out. 
How's the tour been treating you? 
Bass: It's been great, but I definitely feel like I've been getting older. I'm tired. 
Le: Sleeping on concrete floors in people's basements is not very comfortable, but we've been hooked up with some really great spaces to sleep. Every place that we've played has received us very well. It's been great. 
Durden: It was very nice to see a lot of old friends that we haven't been able to see for a couple of years. They all hooked us up very awesomely.
Bass: The way we tour is very DIY. I used to play in a band called Critter back in 2009 and 2010, and that was my first tour. Through that, I met a lot of great people and tour buddies in different states. At this point, touring is an excuse to visit these people that we've met. Honestly, that's why I do it now, is just to visit buddies that I love and have built relationships with. It's for the music too, but it's definitely for the people. The love. 
How does the St. Augustine music scene compare to Jacksonville?
Bass: We don't live far, and we never really played Jacksonville. I love Shantytown, and we played Justice Pub recently. Honestly, I can't compare them because I don't know enough about Jacksonville. St. Augustine is a small town, and we have like two music venues where punk bands play. 
How has 86 Hope evolved since Need Not Nothin'?
Bass: Need Not Nothin' was a phone-recorded solo album. It was a lot of little songs I wrote, and it was huge. There was probably twenty songs on that one, and now with a full band, each album is under seventeen minutes, and it has eight to ten songs. It really hasn't changed much. It's just songs that I've written and added buddies to. 
Le: Need Not Nothin' was Dawson's solo. Not Quite Tight was recorded live in our house, and our newest album was recorded in our storage unit, but it was recorded nicely by our friend Jeremy. I feel like that's kind of the progression. It's done a little more legit each time. 
Bass: We got our friend Patrick Jennings to do the mixing, and he crushed it. He's a phenomenal musician and a great friend. And we got Mike Bridavsky at Russian Recording to do the master. We just have more hands and ears on the album, and we're taking it more seriously. 
How did it feel playing for Sing Out Loud Festival? 
Bass: We've played every single Sing Out Loud Festival. I think it's cool that the city is taking this money and using it to pay bands, especially local bands. We're all proud to be a part of it.
What was the creative process for Need Not Nothin' like?
Bass: I just write songs. A lot of them were written in a little house off Twelve Palms Fish Camp road, and I was living with my dad way out in the middle of the woods. There wasn't much to do except fish and play guitar, and I think a lot of it was just being out in nature and getting drunk.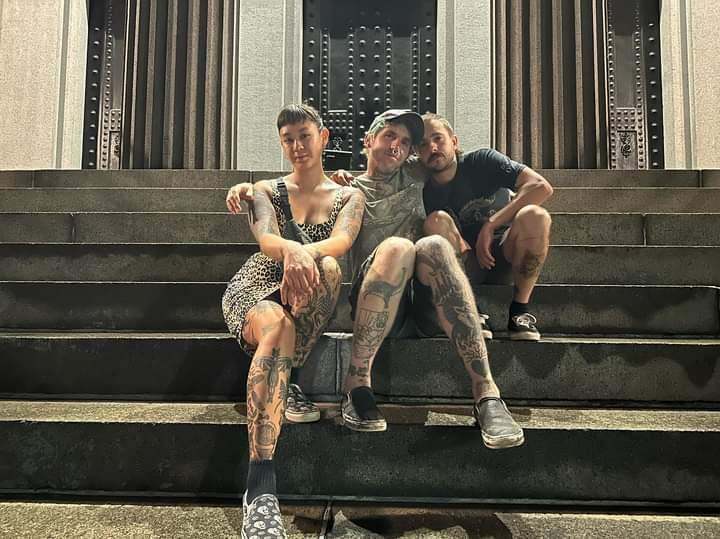 What does it mean to live a 'beater life'? 
Bass: A beater truck is a truck that's a piece of shit, but you love it. So a beater life is living not too fancy and loving it the whole time. 
How would you describe the essence of 86 Hope? 
Durden: Having fun with my two best buddies, creating music, and traveling places. That's what makes it worthwhile for me at least. 
What's next for 86 Hope? 
Bass: We got a bunch of songs on the back burner. We're gonna work on them and do what we've been doing: tour and sleep on floors.
With banjos on their backs and moonshine in their trunks, 86 Hopes revive the old bluegrass-outlaw-country sound but with a modern punk rock twist. 86 Hope's lyrics are raw and emotional, telling a story of heartache, friendship and hard times.
___
For more information or news tips, or if you see an error in this story or have any compliments or concerns, contact [email protected].