September has ended so students and faculty are headed toward the halfway point of the fall semester. During this time, North Florida's fall sports have been well underway with volleyball, men's soccer, and women's soccer, and all produced plenty of excitement at pivotal points of their seasons. Here's what has happened so far.
Volleyball
Starting with volleyball, Kristen Wright and crew are now past the halfway point of the season with 16 games played so far. They finished most of their out-of-conference slate with 13 of their remaining 14 games being against ASUN opponents.
The Ospreys currently sit at a 7-9 record with an impressive 5-2 record when playing at home. However, the team struggled in other areas with a 1-4 record on the road and a 1-2 record against in-conference opponents as of September 28th.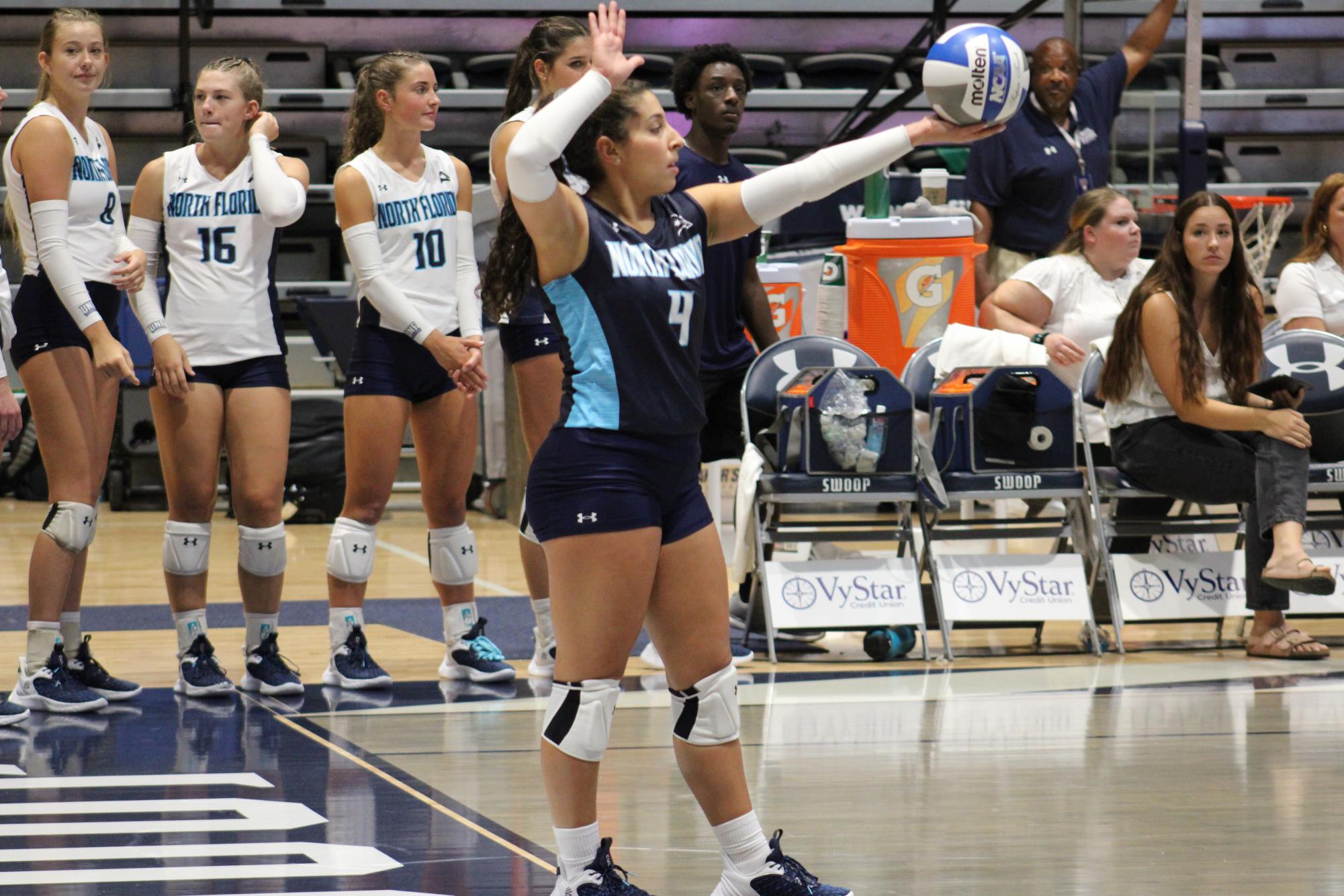 The team's statistical leaders include outside hitter Kailey McKnight, who leads the program offensively with 202 kills so far. Libero Rocio Moro is currently leading the way defensively with 272 digs, while middle blocker Maddie Boyd is holding down the front court with 42 blocks so far. 
Ospreys volleyball will finish up the month of September on the road this week as they are traveling to Nashville to face the Lipscomb University Bison on Saturday with the start time slated for 7 p.m.
Men's Soccer
Onto men's soccer, an abundance of ties has kept this team at a low number in the win column. The team currently sits at a .444 win percentage with a 2-3-4 record, and a winless ASUN record so far at 0-1-1
The Ospreys are nearing the end of their season with only six games remaining, however, they will have plenty of opportunities to improve their conference standing since five of the final games are against ASUN opponents.
The top performers for the team include University of North Carolina transfer Luc Granitur, with the sophomore making a huge impact in his first year as an Osprey by leading the team with four goals so far. Third year forward Joaquin Acuna has helped quite a bit with that impact, as he currently leads the team in assists with three.
Men's soccer will close out September at the Nest on Saturday as they are set to face off against the Florida Gulf Coast University Eagles at 7 p.m.
Women's Soccer
Coach Eric Faulconer and the women's soccer program have a lot to look forward to. The team currently sits at a 4-5-2 overall record with a 2-2 record against ASUN opponents so far. The team has seven games remaining this season, all of which are in-conference opponents.
Some high impact players for the team include forward Jersi Dadah, who leads the team in goals at the moment with three. Defender Lauren Weiss has also been quite a valuable player, helping significantly in the team's ability to score numbers as she leads in assists with four.
North Florida women's soccer will be on the road this Thursday evening as they travel to face Eastern Kentucky University at 4 p.m.
More information on all things Osprey sports can be found at the UNF Athletics website.
___
For more information or news tips, or if you see an error in this story or have any compliments or concerns, contact [email protected]