This article expresses the views of its author(s), separate from those of this publication. Readers are encouraged to comment or submit a Letter to the Editor to share their opinions. To submit a Letter to the Editor, follow the instructions here.
The broken record continues to skip.
Parents and students come out of the woodwork yearly to complain about the graduation ceremony. Having been at UNF for three years, this has become as much of a tradition as the graduation itself. No matter the circumstances, the masses unify to voice this one grievance year after year.
The issue in question is simple: why aren't enough tickets allocated to each graduating student for their families (or whoever they wish to invite) to attend?
Let's start with another question: How many tickets does each graduate get this semester? Six. Two more than the Spring 2023 semester. 
We're headed into the tail-end of the fall semester and questions about buying extra tickets (and how to ask for "special exceptions" to get more) have come around like clockwork. Obviously, people don't like what's happening, but what has UNF done to address the issue?
Charles Learch, registrar of the university, pointed out that many factors determine how many tickets each graduate gets. For starters, the configuration of the ceremony has been designed to give each attendee an unobstructed view of their graduate(s) when they walk across the stage.
"We could definitely pack them in if we wanted to," he said, adding, "but we want people to be comfortable."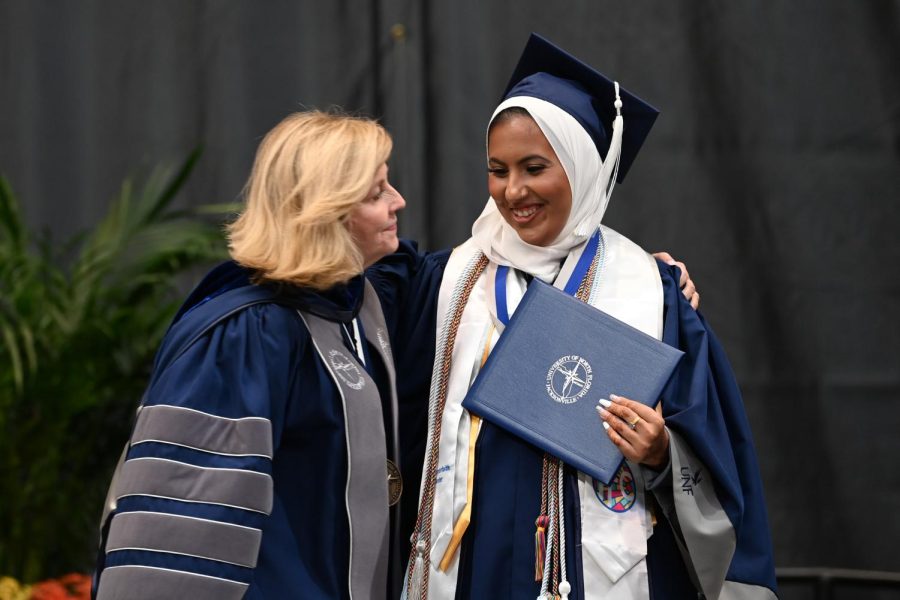 Along with making exceptions for guests with disabilities, another factor is in the graduation process, which allows students to apply for graduation up to the day of the ceremony. Learch admits that the process makes determining the exact amount of graduates in a given ceremony difficult, and is a significant element in planning ticket allocation. 
"There's factors that we have to take into consideration that haven't happened. We don't want to limit somebody's ability to graduate," said Learch.
Naturally, Learch understands why graduates and their families want more tickets.
"You're excited. You're graduating," he said. "It's an exciting time."
However, the university does not wish to compromise on the experience. From my interview with Learch, I got the impression that the university is satisfied when a certain number (big or small) of tickets per graduate ensures everyone has a seat to comfortably enjoy the ceremony.
"If people are putting their time and money into something, we want to make sure that they can be there," said Learch.
Before the interview, I thought the number of tickets per graduate would be way lower. From how some Facebook moms complained, I thought it would be something like two or three. Well, I think six is a lot better. In fact, I can't even come up with six people I'd invite to my graduation (I got five, so pretty close. I guess I'll be making some money in May 2025). 
It's completely understandable why some would want more than six tickets; some graduates just have big families or lots of people important in their lives. However, there's a delicate balance that must be maintained. Hundreds of other families are in the same boat, and each deserves an equal chance to see their graduate walk across the stage.
If you've recently taken to Facebook to vent your frustrations about graduation tickets, stop. This will sound harsh, but you are not the center of the universe. 
Take a deep breath and understand that not everything is about you. It's giving Karen—not a good look, babe.
___
For more information or news tips, or if you see an error in this story or have any compliments or concerns, contact [email protected].