Lacrosse at UNF benefits veterans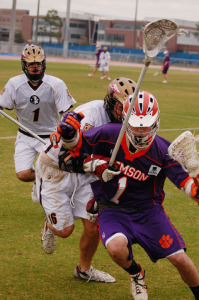 For four wounded soldiers, one lacrosse game was a dream come true.
Face Off for a Cause hosted its second-annual 2009 Lacrosse Challenge Feb. 14 at UNF Hodges Stadium, which benefittedthe Wounded Warrior Project, an organization focused on honoring wounded warriors.
The challenge, which included the University of Maryland verse the U.S. Air Force Academy and Clemson University verse Florida State University, also featured four honorary team captains who served as WWP representatives and hosts.
"Events like this one assist us in ensuring this generation of veterans is the most successful and well-adjusted in our nation's history," WWP director of resource development Adam Silva said.
The WWP raises awareness, unites injured service members and helps rehabilitate those who come back severely injured. It is working toward providing notable programs and services to meet the needs of the service members.
In the first match, the Terrapins defeated the Falcons with a score of 15-4, while the Seminoles beat the Tigers 24-8. But the game was about more than just the final scores.
"We play athletics and wore the camouflage in respect of the cause – not because we know about war but because we respect what these guys do," said Maryland head coach David Cottle.
The soldiers who participated had many tasks such as joining the players on the field for the coin toss and sideline support.
Dan Nevins joined the Army as a high school graduate. After his right leg underwent 27 surgeries and his left leg was too damaged to save, Nevins had both amputated. The recipient of the Army Commendation Medal and a Purple Heart, Nevins remembered his time on the field as a young lacrosse player.
"I played high school lacrosse in Maryland," Nevins said. "Now I'm a part of the team that I thought was so cool when I was younger. It makes me want to pick up a stick again."
Another honorary captain, Ron Hawthorn, served the U.S. for five years. During his tour of duty, Hawthorn suffered a loss of vision in his left eye, broken bones, lost teeth, and was in a coma for 27 days, enduring traumatic brain injury. He hopes to go to UNF in the summer of 2010 to get a degree in early childhood education.
Ian Lennon and Neil Duncan were the other honorary captains in the game.
After being deployed to Afghanistan, Duncan shattered his legs, arm and jaw during an explosion. And Lennon suffered from third-degree burns during a fuel fire while he was in the U.S. Marine Corps.
All four credit the WWP for helping injured military men and women regain the willpower to start their lives again. Pictures of the event are currently available at unfspinnaker.com.
E-mail Heather Furey at [email protected]