Beaches-area bagel shop remains popular despite poor economy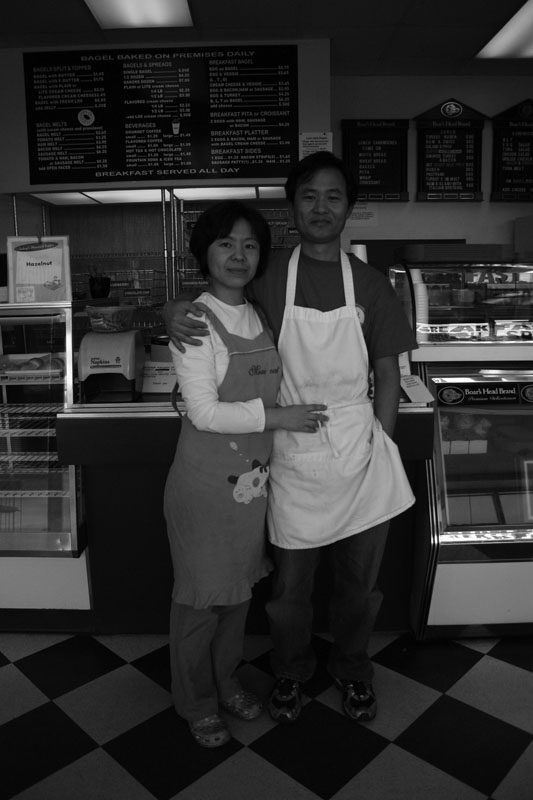 Beach Boulevard is certainly notorious for the oodles of bourgeois strip malls dotting either side of the busy highway. There's an endless array of aptly named nail shops, auto repair centers and fried chicken places. It would be easy to miss the unassuming bagel shop tucked neatly next to a Brazilian import store, just east of the Regal movie theater.
Bagels-R-Us and Deli Café's lucid store-front is adorned by big blocked letters boasting "BREAKFAST & LUNCH SPECIALS." Through the halfway-tinted glass door and behind the counter stands the Kim couple, the two-part powerhouse fueling the entire establishment.
Hoards of people perch cozy in their shiny, slick red chairs padded with vinyl matching the hunter green checkerboard tile floors. Most of the tables are a little wobbly with quirky mismatched salt and pepper shakers and some tables have giant bottles of Tabasco sauce. Loud conversation saturates the joint as heftily as the air of camaraderie.
"I know every customer, almost," Hyon "Bruce" Kim said.
This isn't too hard to believe judging from the bona fide congeniality in Bruce and his wife Sara's voices when they greet each entering customer with a warm, "Hi!  How are you?"
Bruce said about 99 percent of the people cruising through their breakfast establishment are regulars that he and Sara have developed familiarity and routines with. Many customers don't even have to utter their order before the Kims are slicing their favorite bagel in half and smearing it just so.
The interaction between Bruce, Sara, and the rest of the folks inside might lead you to believe the Kims are native to these Duval parts. How very far off you'd be.
Bruce first moved from Seoul, South Korea to join his aunt in Jacksonville after completing three years in the Republic of Korea Marine Corps. He later flew back to Seoul and met and married Sara.
The duo almost immediately took up working at the bagel shop when they settled back down in Jacksonville.
They bought Bagels-R-Us from Bruce's friend, who decided to move on from the bagel business.  But before the ex-owner completely moved past those doughy rings, he passed on his authentic bagel-making expertise to Bruce.
"He taught me every recipe," Bruce reminisced.  All 20 types of bagels, in fact – ranging from spinach to salt to the ever-popular everything variety.
Sara took over the cream cheese endeavors, mixing the astonishing amount of flavors herself with fresh vegetables.
Unlike most of the local businesses throughout the nation, the Kims have suffered only minor casualties.  The strip of stores they're settled in has seen other shops come and go, but theirs has remained.
"I'm so glad that I'm still existing here," Bruce said.
Although Bagels-R-Us has slowed down slightly, the two estimate they get 200 to 300 customers daily during the week – quite the impressive total for a business entirely nixing any advertising.
"We work hard," Sara jovially piped.
Nearly a decade after acquiring the deli, most folks would probably tire of the daily grind and yeasted wheat.
"I like my bagels," Bruce smiled with a shrug.
Seems like he's not alone.
E-mail Beca Grimm at [email protected]