At nearly 16 feet off the ground, David Shepherd sets goals higher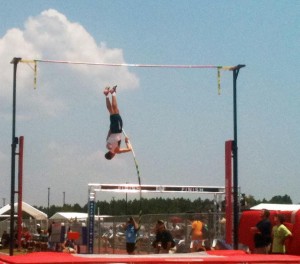 Lining up, pole in hand, sprinting toward the bar set 15 feet, 11 and ¾ inches in the air, David Shepherd plants the long cylinder into the ground and prepares for flight.
Intensity on his face, his body table tops almost 16 feet in the air, crosses the bar and lands on the foam mat on the other side.
Shepherd, a UNF sophomore pole vaulter, stands up, wipes himself off and prepares for flight once more.
To Shepherd, clearing the bar nearly 16 feet off the ground represents a small feat on the long list of standards he can only depend on himself to accomplish.
"Pole vaulting is a battle against one's self," he said. "You have coaches and teammates, but it's really up to me to accomplish my goals."
Shepherd's goals don't stop at 16 feet above the ground.
He said he hopes to be an all-American next year and wants to train all summer and get better.
Shepherd's personal record for height on a pole vault jump is 17 feet, 1 inch — a leap he accomplished in practice. Although Shepherd's performance may seem fearless, he admits that he struggles.
"I need to get to where I can compete the way I practice," Shepherd said. "I need to relax. I get so pumped up. But it's really hard to relax when you're running full speed with a pole in your hand."
Shepherd said dealing with failure can be very frustrating at times.
"Sometimes you plateau," he said, "but you just have to be patient."
And, for the 5-foot-10-inch athlete, that patience comes from trying out other events and sports. While he loves football, Shepherd said he uses events such as the 200-meter dash and the 400-meter dash to improve his pole vaulting speed.
Despite his success in running events — Shepherd runs a 22.84 in the 200-meter dash and a 52.56 in the 500-meter dash — he makes it clear that he came to UNF for pole vaulting.
Chris Hord, a pole vault coach at UNF, has known Shepherd throughout his college career.
"He's phenomenally fast and athletic," Hord said, "and he really has desire to improve."