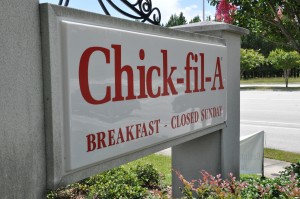 Since the initiative to build a Chick-fil-A at the University of North Florida has yet to be approved, students will not be dressing up like cows on campus for the annual Celebrate Cow Appreciation Day this year.
"I don't have any updates on this particular initiative initiated by the previous Student Government President Matthew Brockelman," said UNF SG President Carlo Fassi. "It is, however, something my administration is looking into to understand the feasibility of attaining one."
James Taylor, an administrative assistant at the UNF Environmental Center and a 5-year vegetarian, said this initiative would not help provide healthy and vegetarian options on campus. UNF students should become involved in the decision of building a Chick-fil-A, according to Spinnaker archives, Taylor said.
"They did a survey of the campus, and students said they had an interest," said Dave Jordan, Chartwells' resident district manager at UNF. "Chick-fil-A provided a quote to the university to build it. It's in student government's hands at this point."
Korey Konapasek, Chartwells' director of operations at UNF, said if Chick-fil-A were to be on campus, it would be where Sbarro is currently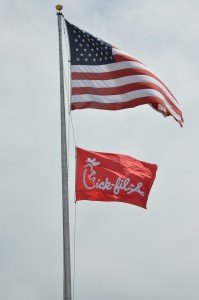 located, according to Spinnaker archives.
"If this would have been approved in the spring, we probably could have opened for the fall semester," Jordan said.
Jordan said if the initiative gets approved, it would take six months to renovate and build an all-electric facility for Chick-fil-A since most food places on campus run on gas.
Although a Chick-fil-A will not be seen on campus this upcoming fall semester, UNF students can look forward to other new food venues.
"We're going to have the brand new cafeteria, which has six stations within in it. It's going to be quite the place," Jordan said. "Also, Jamba Juice is also going to open in August in the fitness center."
The university is probably looking at funding for opening a Chick-fil-A during another semester, he said.