UNF pole valuter competes with sprained ankle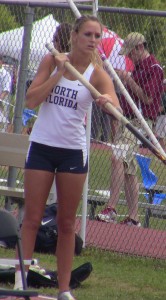 Christina King was only introduced to pole vaulting two and a half years ago.
King, a UNF communication senior, competed with a sprained ankle Friday, May 25, in the 2012 NCAA Women's Pole Vault East Regional Championships at UNF's Hodges Stadium.
Competing in the 2012 Women's NCAA was rough after she sprained her ankle in practice a week before while running on the mat, King said. Although King didn't clear any bars at this meet, she said she did all that she could.
King's record is currently 13-1½ feet at a meet, and, in practice, she has gone 13-2 feet with a bar.
Ken Taylor, an assistant track and field coach, said he was proud of King's performance because many athletes wouldn't even try to compete with that injury.
"She was determined she was going to do it," he said. "We wrapped [her ankle] up, and she made a tremendous effort."
Taylor said King is not far off from U.S. Olympic Team Trials B Standard, which he could like to see her get.
Chris Hord, and assistant pole vault coach, said King competed like a champion despite her sprained ankle.
"She's a great pole vaulter and an even better person," Hord said. "I'm very fortunate I've been her coach for the last three years."
Doing gymnastics for 11 years, King also has been running track for the past five years. As a UNF freshman, she did the triple jump and long jump, but that was over once she tried pole vaulting.
She first tried pole vaulting her sophomore year and fell in love with how similar it was to gymnastics.
King said she loves swinging through the air and going upside down.
This is King's second time qualifying for the NCAA Eastern Regional Championships out of three attempts. King has experience with dealing with nerves at big championships and won both conference championships outdoors and indoors twice for the Atlantic Sun Conference.
"I'm not nervous during warm-ups," King said. "I'm nervous once competition starts until I clear a bar, and then once I clear a bar, I just have fun."
King practices two to three hours a day, six days a week. The day before a meet, King watches YouTube videos of pole vaulting and goes out to dinner with the rest of the team. King said her favorite video is "A Pole Vaulter's Dream," which is a DVD full of pole vaulting.
King said she feels relieved after a competition ends, and then she gets excited to start training for the next meet to improve.