Amazon launches textbook rental service for students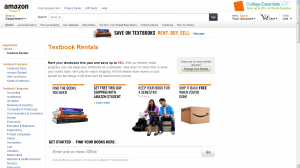 By Jason Howard, Contributing Reporter
Students now have another option when it comes to textbook rental.
The online retailer Amazon has launched a textbooks division of its website, offering book rentals.
The website allows students to rent texts for a semester, or 130 days, before returning them with pre-paid shipping.
Some UNF students see the service as an effective alternative, but others aren't so sure.
Kseniya Bolchunas, a UNF economics sophomore said she would probably use it because she loves Amazon.
Nicole Farbe, a history graduate student, said she isn't sure she would use the service.
"I like to keep my books," she said. "Also, I wouldn't like the late fees."
The service, similar to text-rental websites such as Chegg, Half or ecampus, promises savings of up to 70 percent through rentals on its site.
Patrick Jones, the customer service manager for the UNF Bookstore, said that although online bookstores do present competition, university bookstores have advantages students can't get online, such as being able to check the condition of texts before purchase.